Art Walk to teach artists what they don't learn in art school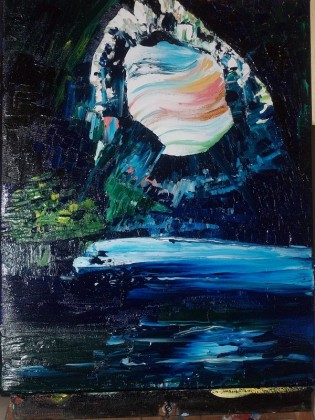 Whether you're a full-blown art-o-holic nurturing an art habit, or a raw newbie with four bare walls, the annual Art Walk will have something for you when the streets of Old Strathcona turn into a mammoth studio visit this weekend.
Friday through Sunday, art-o-holics will revel in the opportunity to not only view acres of work by 380 artists, but poke through sketch books and quiz the artists face-to-face.
Kim Fjordbotten, owner of the Paint Spot art supply store, has organized the event for all of its 17 years. She says, "Even the people who say, 'I don't know anything about art, but I know what I like', will find their tastes are a lot broader than they had imagined."
How broad those tastes are going to be will be determined by the artists stretched along some four kilometres of sidewalks. A large number of the artists come from art programs around Edmonton – including the University of Alberta and Grant MacEwan University. Artists have to pay from $40 to 100 for a patch of sidewalk, depending on the location, and Fjordbotten guesses that over $125,000 worth of art will be sold. "We have some people who've only made $5, but I think the average is about $800. I've seen anywhere from $20 to $30 for prints, and you see a lot in the $100 to $200 range, but established artists go up to $5,000 and they sell."
You can get a sense for yourself of the range of art by browsing their index.
The Walk will feature a couple of new wrinkles this year. A new tent area will block off 105 Street for the half block north of Whyte, and for the first time, there'll be a holdover  exhibition – a la the Fringe, determined by people's choice and displayed at the Daffodil Gallery. While the holdover concept and the blocked-off street are something that the Art Walk and the Fringe share, they also share the same selection process – no jurying, no cherry-picking. Fjordbotten explains that while art appreciators of all stripes will have lots to look at, the artists benefit, too.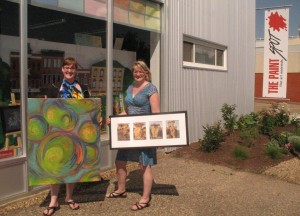 "My goal is to give an artist the exposure so that they can get picked up by a gallery, or even that they understand what galleries do," she says. "Once you're out on the Avenue and you're organized enough to do it, it really is a crash course on the professional side of being an artist. You have to have business cards and figure out how to talk about your work, set up an inventory and even make sure you have titles – all those little steps they don't teach you at art school."
The Walk gets cruised by public and private galleries trolling for talent, so, she says that they set guidelines to ensure that the art remains the focus.
"About Year Six we noticed that it had become something of an artisan show – the art was becoming a backdrop to crafts." Now, they ask exhibitors to show 75 per cent "creative works, paintings, drawing, sculpture," while the remaining 25 per cent can be related items, such as jewelry and cards and prints, as well as functional artisan pieces, i.e, crafts.
"We don't want it to be too commercial," Fjordbotten says. "We do workshops at the Paint Spot and tell the artists to paint what interests them, because that's what shows well, as opposed to painting what they think will sell."
And after 16 years of running the Walk, Fjordbotten is unsure whose appreciation touches her more ― the art buyer or the artist. "I don't know which is more exciting, to find someone who's just sold their first piece, or someone who's just bought their first piece."