Local man hijacks Mir space station in new Minister Faust novel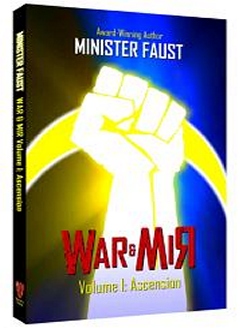 Minister Faust is a man of many hats. He's a radio personality and political activist. He's published his own magazine (the now defunct Africentric Magazine), written for the video game industry (EA Games Darkspore, the sequel to award-winning Spore), plus he's an award-winning novelist, known for such books as "The Coyote Kings," "The Space-Age Bachelor Pad" and "From the Notebooks of Dr. Brain." In 2011, Minister Faust released his first indie novel, "The Alchemists of Kush," a re-imagining of the Horus myth set on the streets of Edmonton. Now, he's back with a new indie release, War + Mir, Volume 1: Ascension, the first in a science fiction trilogy. The launch will be held at Happy Harbour Comics on Wednesday, July 18 at 7:30 pm.
Q: You've worked in TV and radio, so give us a quick pitch for your new novel.
A: I take one of the most hated stories in science fiction – The Phantom Menace – and do a total remix on it. Look at that story on its elements alone, not its execution: democracy-crushing trade deals, child-slavery, a crumbling monarchy, political machinations to pull whole worlds into a war that will benefit none of them… that's all great stuff. So I take those elements and add in an Edmontonian who hijacks the Mir space station seconds before it burns up in the atmosphere.
Q: You said that you weren't a big a fan of space operas, but here you have written one, or sort of one.
A: I love space opera as a genre, and the one that inspires me the most is Frank Herbert's Dune. I have always loved the world building: cultures, languages, technologies, mysticisms, and a vast cast of characters. When it's well done, it's totally engrossing. Dune had me tripping for years.
Q: What makes your space opera different from others?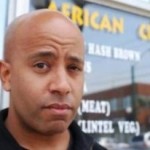 A: My space opera is revisionist in that I take certain sci-fi conventions and invert them or warp them so I can reflect back to modern readers the dramatic realities of current crises staring us in the face.
Q: You've also gone the indie publishing route, how is that working out?
A: Indie publishing is hard work, much like indie music or film-making. I enjoy the sovereignty. It's like any small business, though, and it's no quick path to riches for the vast majority who take it.
Q: Does that mean you are done with traditional publishers?
A: I would work with corporate publishers again if the terms of the deal were in my interests.
Q: We hear there's sequel in the works for Coyote Kings. When's that coming out? Huh?
A: Uh, yeah…. "The Coyote Kings, Book II: Uranium City" was originally scheduled for this year, but it should be out next year. Fingers and tentacles crossed.