Blackie and the Rodeo Kings book Winspear date
Blackie And the Rodeo Kings, a venerable alt-country-folk trio of three storied musicians, are on their way to Edmonton later this fall, playing Winspear Centre on Nov.21.
Founded in 1996, the band is comprised of Tom Wilson, Stephen Fearing, and Colin Linden. The three originally got together to record a one-off tribute album to Willie P. Bennett, but the project took wings from there.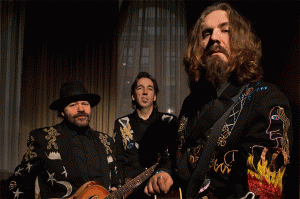 Wilson has perhaps the most eclectic music career of the three, with flags planted in psychobilly, funk/blues (Junkhouse), and the western/roots style of Blackie And the Rodeo Kings. His most recent project is LeE HARVeY OsMOND, a collaborate effort with members of Cowboy Junkies and Skydiggers.
Fearing was born in Vancouver, also has an accomplished solo careers, with nine studio albums. In fact, he performed at last year's Edmonton Folk Music Festival as a solo artist. Linden is also an accomplished musician, songwriter, and record producer, and has worked with Bruce Cockburn, Lucinda Williams, Colin James, and many more. He has a total of eleven solo albums.
As a group, the trio has recorded seven albums, the most recent being 2011's "Kings And Queens". Which is, not coincidentally, the name of this tour. The release paired the band with some of their favorite musicians and friends, including Roseanne Cash, Emmylou Harris, Pam Tillis, Serena Ryder, Holly Cole, and Lucinda Williams. Don't be surprised to see one or more of them join the band during the tour.
Opening for Blackie And the Rodeo Kings will be Harlan Pepper, an alt-country-indie-folk act from Hamilton, Ontario, who have been getting very good reviews for their latest effort, "Young And Old", and even more rave reviews for their live show.
Tickets range from $25-$55, and will go on sale Friday, July 20th.