BOOKS: Win insight into the world of Paul Bellini
People of a certain age know the name Bellini. He's the towel wearing guy that would appear in the odd episode of Kids in the Hall. But Bellini (Paul Bellini is his full name) is more than just that towel wearing guy or the second most famous person from Timmins (Shania Twain is #1). He's an award-winning writer who's credits include Kids in the Hall, Yvon of the Yukon, Made in Canada and This Hour Has 22 Minutes. Bellini@Large has been a regular column in Toronto's gay scene magazine since 2002 and he's collected the best for his new book, The Fab Columns, available only from Amazon.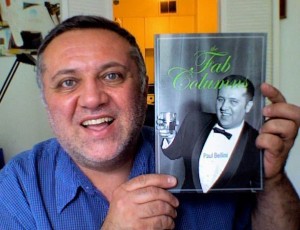 Q – You've written for TV so give me the pitch of your book as if you're trying to sell it to a producer.
A – Okay, so it's Michael Musto meets Lester Bangs, if they had the bad luck of living in Toronto for the last ten years. Plus there's lots of tits in it!
Q – Can you can give more insight into the book?
A – The book is a compilation of my best columns from April 2002 to now. I edited them down to the best jokes. I like to think it's a breezy easy read, ideal for the beach or the commode or the bedside. It gives some insight into Toronto's gay scene of the past ten years, as I have met and interviewed everybody.
Q – Tell me about the origin of the regular columns.
A – Mitchel Raphael became the new editor of Fab, a village gossip rag, and he wanted to create three new columns – Twink, Trade, Troll. I was asked to do Troll, as I was older than the twinks, and more likely to be a john than be trade. The original conception was that I would cover the leather scene, bears, porn, bathhouses, porn, etc. But it quickly grew beyond those parameters when I started interviewing celebrities and authors and comedians.
Q – What do you personally get out of this column?
A – It gets me out of the house. It's a social column, so it forces me to be social. But more importantly, it sharpened my writing skills. It forces me to be precise (650 words average) and to be funny. As you know, I inject myself into the piece, but never make it about me. It's about me experiencing the subject.
Q – I know some writers hate this kind of thing but where do you get your ideas from?
A – Publicists feed me lots of stories. People in the community will also approach me when they want press. I look high and low for interesting topics, as long as there is a 'gay' angle for Fab readers.
A – When did you come up with the idea of publishing a book of your columns?
Q – My friend Steve Keil self-published a book of poetry earlier this year, on Amazon. He told me how to do it and encouraged me to do a collection of my columns. I thought it was a great way to celebrate 10 years of writing. I self-published because I couldn't find a publisher who was interested in the project. Who needs them?
Q – What column is your favourite? And don't be like Elaine Stritch and say the one you are working on is your favourite.
A – There are several I love, for different reasons. Tray Pass Appetizers, Mike Mike, Kitty the Kat, Tab Hunter Tell All, Inside Out Film Festival, J. Edgar Hoover and of course What Rhymes with Stritch are among my most favorites.