PREVIEW: Hot Panda bamboozled by wonky wheels
If you're a band from Vancouver, but spent considerable time plying your trade in Edmonton as well, the question beckons: who gets the release party?
Well…. why can't you have a release party in both? A shaker on the west coast and ano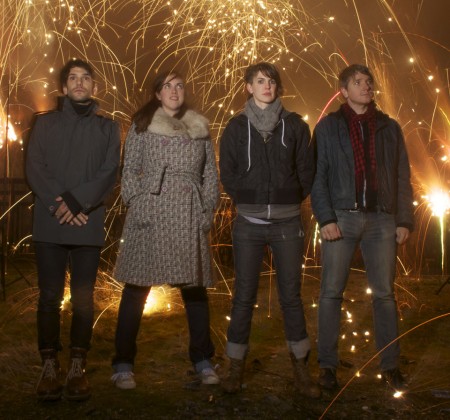 ther in the festival city as well?
So says Hot Panda, performing Friday night at the Pawn Shop.
In fact, according to Chris Connelly, vocalist and guitarist for the band, "we actually wanted to make sure we (played) Edmonton first" on the tour. "It was all of our home towns, and we haven't played (here) in a while. But we definitely thought – let's have a good proper album release show in Edmonton".
Their new album "Go Outside" was released earlier this week (Mint Records). The title track, and much of the rest of album, is the result of Chris' first few winter months in the city. "I moved to Vancouver, and it was a bit of a tough winter. I was in a new city where I didn't know a lot of people, and it was rainy and gray". While writing the album, Chris was "cooped up in my apartment, and I just wasn't seeing anybody, and I used that phrase to tell myself, just go outside, you just need to go outside". And it's a nice metaphor for the album, according to Connelly, it's "just about putting yourself out there, taking advantage of things in life, enjoying life and getting out there".
The Vancouver music scene, like Edmonton's, finds musicians performing in other bands, sometimes on a temporary basis, sometimes on a permanent basis. Bassist/multi-instrumentalist Catherine Hiltz, in fact, has played a few shows around towns with other bands. "Not permanently," according to Connelly, "but if somebody needs a bassist, she'll fill in. Catherine was even offered to play a show in Stanley Park with the New Pornographers", according to Connelly, but "had to not do it because we were in Europe at the time".
Apparently she was bummed about that bad luck for a while. Who could blame her?
Back to Hot Panda, though. They've been burning through a litany of tour vans. The bad luck even carried over to Europe, where their van was broken into while the band was in Cardiff. Back in North America, it's a regular lament. "The engine blows, or the transmission goes. It's basically not having a lot of money and having to replace your shitty broken van with another shitty van. The last one we got, literally, our van broke down while we were on tour. We cancelled two shows, and had three days to find a van while in Toronto. Which was a really tough thing to do".
Speaking of Europe, "we're actually getting more money in Europe than in North America right now", says Connelly. Things apparently move really fast in Europe, so when they were invited to a showcase in Germany last fall, they also played a few shows in London, then landed a couple of agents, and now they're heading back in a few months again. Remember that phrase "we're huge in Europe?" It actually applies to Hot Panda.
Known for their intense live shows, Connelly explains. "Our mentality is that you draw them in with the record; and then slap them in the face with the live show". They certainly do that. Prepare to have your face slapped. And hit the merch table on your way out.
Doors are at 8pm on Friday night. City Of Champions and Third Branch will be opening; advance tickets are $10; at the door they'll cost $15.