Steve Martin's second love didn't put him on stage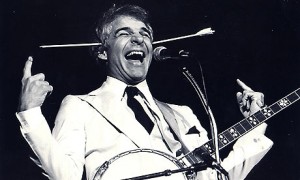 There's something disturbing about Steve Martin coming to Edmonton – because he's not here to do comedy. He's going to play bluegrass.
Oh, joy.
Sure, you can expect humour when Steve Martin and the Steep Canyon Rangers perform Sunday at the Jubilee Auditorium. They'll probably do an a cappella number called Atheists Don't Have No Songs: "Catholics dress up for Mass, and listen to Gregorian chants. Atheists just take a pass, watch football in their underpants," and so on. The between-song patter better be funny, too. This is a legend of American comedy we're talking about here. He didn't get here by accident.
But no, the man who practically invented the comedy album would rather pick than grin. As he put it so succinctly on the Jools Holland show in the UK, "I have two great passions: One is comedy and the other is charging people money to hear music."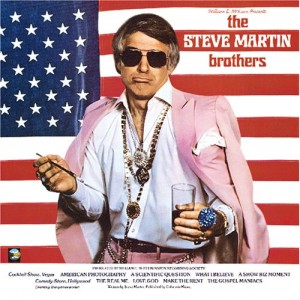 Let's get real. Martin is good, but he's no Bela Fleck, no Earl Scruggs, no Name Your Five String Master. He could play a side stage at the folk fest much in the same way A-list actor Tim Robbins couldn't if he weren't Tim Robbins, or in the same way Kevin Costner couldn't do the Big Valley Jamboree if he weren't Kevin Costner. Steve Martin, too, is a major league Hollywood star who has turned into minor league musician. He's the musical version of Michael Jordan – who took a break from being a basketball superstar to play AA baseball in 1993, wound up with just barely over a .200 batting average and was ridiculed by the sports press, an altogether meaner bunch than the music press, who are hard enough as it is on rich movie stars who insist on getting on stage to play music. The nerve!
Martin is in that league. Good, not great. He'd probably be the first to admit it. In a recent appearance on Letterman, Martin let some whiz kid – recipient of the first $50,000 "Steve Martin Award for Banjo and Bluegrass" – ridiculously upstage him on a thwarted version of Duelling Banjos. Martin stopped playing, frowned at the guy and finally said, "Are we still on the air?"
Martin is barely good enough to call himself a pretty decent picker, to deserve to play with people like Bela Fleck and Earl Scruggs, not to mention the established pretty decent pickers in the Steep Canyon Rangers, to sell records, sell out concert halls and even win a Grammy award for best bluegrass album in 2010. You think he would've won if he weren't a legend of American comedy with two comedy Grammys? Now we'll never hear the end of it.
Actually, it was too late a long time ago. Martin has been playing banjo since he was 17. He's used the banjo as more than just a prop in stand-up act. His last proper comedy album, 1981's The Steve Martin Brothers, was half comedy, half bluegrass, possibly the only example of its kind. And in 2001, he shared a "country instrumental performance" Grammy with Earl Scruggs in 2001 for a rendition of Foggy Mountain Breakdown – as much a hackneyed cliché in bluegrass circles as Duelling Banjos.
On the plus side, he's obviously not doing this for money – when is the last time you heard the phrase, "Is that the banjo player's Lamborghini?" – but for love. That has to count for a lot. Who are we to criticize Steve Martin for doing what he loves?
Well, excuuuuse me, but that's the problem. If he weren't famous for comedy, he wouldn't be playing bluegrass at the Jube and he wouldn't be drawing a bunch of fans who probably don't even like bluegrass, and who are then effectively forced to listen to it because it's Steve Martin and he might say something funny. Bluegrass isn't the worst music in the world, but for some it's an acquired taste sometimes best taken in small doses, like bagpipes or blues harmonica. True bluegrass fans, meanwhile, know they can find as good and much better bluegrass than Steve Martin at the Blueberry Bluegrass Festival, where there are three entire days of the stuff, and for a much better price, too. Even Bela Fleck didn't sell out the Winspear Centre.
"I've got a little bit of a problem with it myself," says Norm Sliter, president of the Blueberry Bluegrass Festival, on Martin's musical career. "The guy made his mark in comedy, in movies, in theatre, in the arts, and all of the sudden he wants to be a bluegrass guy?" Sliter adds, "Though he's probably not doing the bluegrass genre any harm."
Maybe Steve Martin is having us all on. Maybe the millions of fans of Wild and Crazy Guy and Saturday Night Live and The Jerk and The Pink Panther and all of Martin's smart and witty work in film, theatre and literature find the idea of Steve Martin playing banjo funny on its own. Like Andy Kaufman, whose entire life seemed to be one grand joke, maybe this banjo kick is just one very long and very twangy set-up for a punchline that – when it finally arrives – is sure to be a doozy.
Well played, Steve Martin, well played.