PREVIEW: Just don't expect an abominable show, man
In a city that is positively overrun with festivals and things that call themselves festivals, the Sasquatch Gathering probably leaves, ironically, the smallest footprint.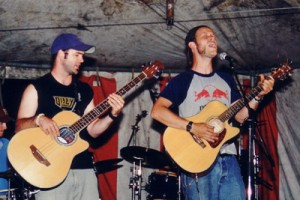 That's OK with festival organizer John Armstrong. It is now the 17th year of the music festival you've never heard of — an event that is, pardon the cliché, a labour of love for Armstrong and his band of volunteers. It runs July 27-29 at Rangeton Park, just outside Evansburg.
In 1996, Armstrong was putting together the long-running Christmas Carol Project, and decided that a small festival combining his two loves — camping and live music — would raise a few dollars for his project. The first festival site (it's now called a 'gathering' to differentiate it from another Sasquatch Festival) was at Snow Creek near Nordegg, the site of an apparently famous Sasquatch sighting during the construction of the Big Horn Dam. No Sasquatchs have been sighted since, but the name stuck.
Armstrong says the event didn't do much for the Christmas Carol Project's bottom line (the musical interpretation of the Dickens' classic is still going strong), but it was fun, which was reason enough to carry on.
"At first I thought the festival should move around the Albertan wilderness, much like its namesake," Armstrong recalls.  "We moved from Nordegg to Hinton and then to the Brazeau Reservoir outside of Drayton Valley.  By then, I had a crew of regular volunteers who begged that the festival stop moving every year.  So, we stayed at Brazeau for several years."
But just like a Sasquatch (we assume), the gathering got restless and moved along. One move was the direct result of a wedding.
 "One of our volunteers, while dressed in a Sasquatch outfit, abducted his girlfriend and proposed to her," he recalls (apparently, these sorts of things happen at the gathering). They got married at the following year's festival, and one of the invited guests was the groom's boss. He was so impressed, he invited the gathering to set up camp on his private land on the Pembina River near Easyford, where it stayed for several years.
"We moved to Rangeton last year and I and all of the other organizers, volunteers and regular attendees hope we will stay there for the foreseeable future."
Armstrong has given himself the title of producer/artistic director, but he has a board of directors and the requisite small army of volunteers.
As for the music, well, it's practically the definition of eclectic. Some of the past acts pictured here include Scott Cook and The Anglers, Shamik and Pedro Espi-Sanchez. It's very indie, and very worldly.
"I've always tried to program a variety of music and other arts. This year, the music includes folk, reggae, rock, steam punk swing, singer songwriters, country, blues and live electronica."
And if that isn't enough (and seriously, it should be) they've added performance art by Mile Zero Dance , yoga and massage, a huge potluck, face painting and the "steam pod" (a mobile sauna).
Attendance has fluctuated, hitting a high of more than 700 one year.
"While we went down in attendance in 2010, last year's numbers were better and I'm hoping we will have over 500 in total this year."
As for the vibe, well, it's very summer of love. It's family and dog friendly, cheap ($60 for a weekend camping pass) and non-commercial (no food booths), and it's BYOE (bring your own everything). And to complete the summer of love reference, they'll be a marriage on site — the third in the gathering's history. Rangeton, less than two hours from Edmonton, has a wooden stage, two cook houses, large sheltered area, access to the Pembina River, a playground, and AC power (no generators required).
Armstrong is one of those guys who fills every available hour doing something. Besides Sasquatch and the Christmas Carol Project, he is the creator of a new pagan rock opera called Awakening the Green Man (which debuted at North Country Fair three weeks ago), and is a performing/composing/recording musician in innumerable bands (most recently Johnny Quazar & the Swingbots, The Ancestors, sideman for Eddie Patterson Project & Neko Rei) and a recording engineer/producer for audio and video projects.
"By day, I work a part time job organizing international student exchange programs, mostly specializing in helping students to obtain visas and dealing with any problems that may arise during the students' stays."
For a full listing of all the acts, things to do and how to get there, go to www.sasquatchgathering.com