REVIEW: A spoonful too much sugar from Mary Poppins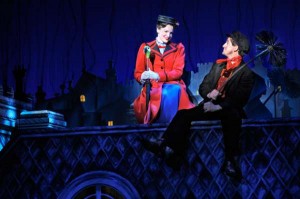 Would it be unbearably clichéd to say that Mary Poppins just wasn't my cup of tea?
Yeah, it probably would. But I'm going to use it anyway, because that's the best way I can describe the Broadway Across Canada production of the hit musical playing at the Jubilee until July 29th.
There's nothing actually wrong with Mary Poppins. The production is first rate, just as we've come to expect from these Broadway shows that roll through town regularly. The singing and dancing is of the highest caliber.
And yet, and yet … it wore me down. Maybe it was because a technical malfunction in the first act stopped the show dead for about 20 minutes, but by the time Mary Poppins was lurching towards its conclusion about 3 hours after it started, I couldn't wait for it to end.
Mary Poppins dates back to 1934, when the first of a series of books about the magical nanny appeared. The series might have been just a footnote had it not been for the equally magical touch of Walt Disney pictures, whose 1964 film starring Julie Andrews and Dick Van Dyke gave the story its enduring popularity. (How popular? It's well known enough that The Simpsons did a parody episode, Sherry Bobbins, with some typically spot-on song parodies.) The stage production debuted in London in 2004, going to Broadway in 2006, where it is still playing, presumably to tourists.
The stage show blends songs from the film (Chim Chim Cher-ee, A Spoonful of Sugar, The Perfect Nanny, and of course Supercalifragilisticexpialidocious) with new material, with mixed results. Mary sings an amusing song, Practically Perfect, about how she is, well, practically perfect (and a bit of an egotist as well). Brimstone and Treacle, sung with great gusto by evil nanny Miss Andrew (Q. Smith) is a lot of fun. But the big finale song, Anything Can Happen, is irksome with its 'you can do anything!' attitude.
The production employs all the tricks of the theatre trade to great effect. There's a wonderful sequence where chimney sweep Bert (Case Dillard) dances on the walls and ceiling, and the main household set opens up like a pop-up book.
So, no complaints there. But a little of Mary Poppins goes a long way. Rachel Wallace is a perfect Poppins, but she sings in that high-pitched, trilling way that wears out its welcome quite quickly. Worse still are the children. I can take little kids singing voices in small doses only (those screechy voices are like nails on a blackboard), but there are no small doses in Mary Poppins.
(By the way, if you're thinking of taking your little ones, think twice. It's a long show, and only a fairly mature child of 10-12 years will be able to sit through it. A woman sitting behind me brought a very small child, who proceeded to jabber through the production while she played with her iPad.)
While I can't say that I enjoyed Mary Poppins, I'm probably in the minority. The audience seemed to lap it up, giving the production a sincere standing ovation at the end. And yes, I know Standing Os have been devalued; hell, Jay Leno gets one every night. But I got the feeling the crowd was really into it.
I wish I could say I was. I like big Broadway productions, and I'm a sucker for show tunes. But Mary Poppins is too Disney for my tastes. It's second tier Broadway at best.