PREVIEW: Il Divo stick with the winning formula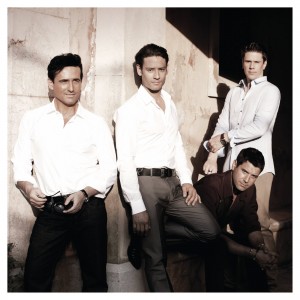 Il Divo's Sebastien Izambard does not know the meaning of the words "novelty act."
Seriously. He's French, and there doesn't seem to be a comparable idiom in his mother tongue for a group of singers whose style outweighs their apparent substance – in this case a poperatic quartet of Armani-suited man candy bellowing Nights in White Satin and L'Alba Del Mondo with equal elan. Ladies, like your mother, for instance, really get gooshy over these guys. They sing Saturday, June 28 at Rexall Place.
Once we get it all sorted out, Izambard, whose English is actually far better than the interviewer's French, responds to the question of whether Il Divo ever fears turning into a novelty act, "I think sometimes people have a tendency to like things that are more obvious. Every time we try to think out of the box, we reach only a small percentage of our fans. I also think when you try to be too clever you lose people as well. You know what they say, don't fix what isn't broken."
From an eight year history of this sort of thing, created by reality TV judge Simon Cowell, Il Divo has poperoperized and paid tribute to Chris Isaak on its latest album, Wicked Game. The title track is re-imagined as "Melanconia," which doesn't sound like a direct translation, either. Izambard says that not just any song can be given the Il Divo treatment, which can be described as Josh Groban to the power of four, Luciano Pavarotti divided into quarters, all the sons of Julio Iglesias, or a European Backstreet Boys trained in opera, depending on which side of the ever blurrier pop-classical line you stand. Il Divo promises something for everybody.
"It's not so easy," Izambard says on choosing material. "We tried Hurt from Christina Aguilera, and it was so wordy. We really liked it, but it was too poppy. It didn't make sense to do that on the album. It sounded like a barbershop quartet."
He laughs off the suggestion that Il Divo take a crack at Devo – "well, we do like to think outside of the box," he says – because of course that would be pure novelty. Weird Al territory. No one wants that. But it's hard not to think that way. Last time Il Divo came through town, you should've heard the screams. There was a Manilowian scent of devotion in the air at Rexall Place, and expected to be again. Izambard, after a line of questioning on who gets the most, nudge, nudge, wink, wink, say no more, say no more (short answer: Carlos, because he's single) says with all seriousness that they're not trying to come off like some pop-classical boy band.
"People don't come for our looks or the suits," Izambard says. "They come for the music."
At this point in the interview, and this is only going to make the women gooshier, I'm afraid, topic turns to how these guys act behind the scenes. It only comes up because Izambard's non-de-plume at his hotel room is straight out of a Bart Simpson phone prank. Just how crazy does Il Divo get when they get a day off?
Izambard says with laugh, "Forget it. If you spend a bit of time with us, you'd be surprised. I think people see us in a way we are not. We are very crazy. We are a crazy bunch of guys."
Just like any musicians on the road. Nothing lost in translation there.