BIG VALLEY JAMBOREE: Country will get to you, if you let it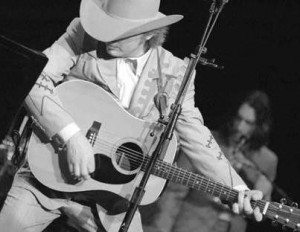 They can't all be rural right wing rednecks, can they? Someone's got to be faking it.
It's probably not Toby Keith. Saturday's closer at the Big Valley Jamboree seems clear where he stands, and so do his fans. His album titles alone speak volumes: White Trash With Money, That Don't Make Me a Bad Guy, Bullets in the Gun. At least he's up front about being a rural, right wing, beer drinking, truck driving redneck. There's no guesswork.
We have come to a peculiar nexus in the Northern Alberta summer: The proximity of the Big Valley Jamboree – the party runs continuously Thursday through Sunday in Camrose – to the Edmonton Folk Music Festival the following weekend. It's a case of cultural whiplash: From hard right to far left, conservative to liberal, redneck to hippie, rural to urban, F-150 to Nissan Leaf, fiddles and guitars to fiddles and guitars and, er, well, name your own pigeon holes for two such different worlds in the space of one week.
There are exceptions, anomalies, if you will. Toby Keith and his Meat Loafian hard country hoedown must follow Dwight Yoakam's cool Bakersfield biscuits on Saturday night. How unlikely is that bill? Yoakam – whose political tendencies aren't actually widely known because the alleged libertarian never says a damned word, which is probably a good policy – is one of a short list of people who could headline either the folk fest or the Big Valley Jamboree. Ditto for Alberta's own Corb Lund, who in fact did play the Big Valley Jamboree, but is playing the main stage at the folk fest this year. Now imagine Emmylou Harris playing the Big Valley Jamboree. Or Toby Keith at the folk fest.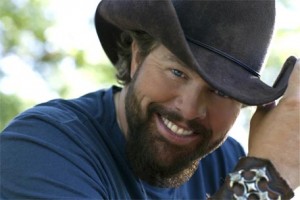 Never mind. For the most part, the performers at this year's Big Valley Jamboree hew to the rural, right wing, beer drinking, truck driving, redneck lifestyle. The men do it, too. It's what the fans want, many of whom are actually rural, right wing, beer drinking truck driving rednecks themselves. Not that there's anything wrong with it. Ask Toby Keith. His autobiographical Honkytonk U proudly details his experience as a "red, white and blue blood graduate of Honky Tonk U" that presumably did not include studies in astrophysics. In another of his popular songs, he expresses the plight of the workin' man in a surprisingly Woody Guthriean way: "The big boss man, he likes to crack that whip. I ain't nothing but a number on his timecard slip. I give him 40 hours and a piece of my soul, puts me somewhere at the bottom of his totem pole. Hell, I don't even think he knows my name." The response is a little different than Woody's might be, in this case to "Get Drunk and Be Somebody." That's more of a Hank Williams thing.
The cultural schism can be more clearly seen in foreign policy. Contrast Toby Keith's polemic ditty "Courtesy of the Red, White and Blue (The Angry American)" – as in "you'll be sorry that you messed with the U.S. of A, 'cause we'll put a boot in your ass, it's the American way" – released a few months after 9-11, and Pete Seeger's "Round and Round Hitler's Grave," released a few months after America entered World War II: "I wish I had a bushel, I wish I had a peck, I wish I had a rope to tie around old Hitler's neck."
Eerie, isn't it?
Now let's look at Friday's closer Blake Shelton – the newer and more telegenic Toby also from small town Oklahoma, big hits, big star, sings about how "I got a friend from New York City, he's never heard of Conway Twitty" in a song illustrating the superiority of the rural lifestyle. Ah, there we go. But then listen to what he sings next, "You ain't gotta be born out in the sticks with a F-150 and a 30-06, or have a Bubba in the family tree to get on down with me … all you need is an open mind."
An open mind! Imagine. It's kind of what Big Valley Jamboree emcee Danny Hooper said once, about the enduring appeal of his annual Mardi Gras at the Camrose trailer court metropolis and the much-maligned music therein, a quote repeated numerous times and worth repeating again: "Country music will get to you – if you let it."