ANNOUNCING: Jeff Dunham, Wintersleep, The Wiggles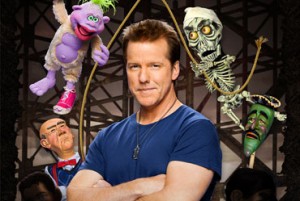 One of the biggest stand-up comics who gets away with murder because he can blame it all on his racist puppets is returning to Edmonton.
You guessed it: Jeff Dunham – along with Walter, Peanut, Jose Jalapeno on a Stick, Melvin the Superhero Guy and the ever-loving Achmed the Dead Terrorist, and many more! – will perform at Rexall Place on Friday, Nov. 2. Tickets go on sale Friday. Dunham is touring a new show called "Disorderly Conduct" that introduces a few more new twisted, politically incorrect characters, including a little version of himself with Peanut as the ventriloquist. The mind, it is said, boggles.
Note: Jeff Dunham's puppet show is not suitable for children, but the Wiggles are! We segue gracefully into the announcement that one of the most popular children's acts on the globe – four musically manic Australian dudes – will return to Rexall Place on Oct. 25. This, brace yourselves, is the "farewell tour" for the original four Wiggles, who are retiring from the stage, give or take a Wiggle, but don't worry, the franchise will continue with new Wiggles.
Finally, an announcement of another "buzz" band, so named because while cool people like it, said band has not yet reached the level of the mainstream and so sits one level below "hype," though not for long. So prepare for the coming of Wintersleep – recent Juno winner, and Letterman band – playing the Starlite Room, home of the buzz bands, on Saturday, Nov. 10. With opening act Elliott Brood – like Pink Floyd, a band, not a man – tickets go on sale Friday.