PREVIEW REVIEW: Fringe plays get one minute of fame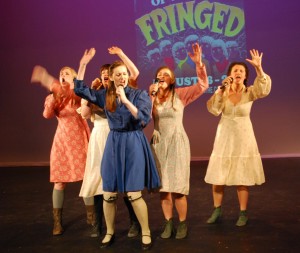 Imagine you're a big time movie director alone on an elevator with a mime for one minute.
Better yet, imagine you're a big time movie director stuck in an elevator with a horde of actors, comics, dancers, singers, musicians and don't forget mimes, each of whom have an amazing story pitch. You will be rescued in exactly one half hour.
That would come close to describing the media launch for The Village of the Fringed Tuesday at the Arts Barns Westbury Theatre, whose stage was littered with cookie crumbs, masticated cake and cheddar cheese by the end of a frenzied 30 minutes of theatrical mayhem. Aside from the news element to the news conference – the announcement of the new "Fringe Daily Discount Booth" where producers will be selling half-price tickets during the run of the Fringe, Aug. 16-26 – thirty different troupes delivered one-minute snippets of their work. Amazing in itself.
Accordingly, here are some sketchy one-sentence "reviews" to pave the way for the flood of real reviews to come. Every entertainment reporter from every media outlet in town gets on board with this festival. This year's themes: Death, the end of the world, genetics and sex, not necessarily in that order. So what else is new?
Disclaimer: Just as one minute can't do justice to a full-length play, the following critiques are not meant to be taken as gospel. As if. Think of them more like wildly inaccurate but bold Kreskin-like predictions of ratings to come.
Son of a Dwarf! – What appear to be Vikings battle a giant rat, so yes, we're interested, tell us more. 4 out of 5
Live Free or BEERprov – Like regular comedy improv, just not as funny. 3
This is Still Not a Play – No, it isn't. It's two graceful ballet dancers intertwining themselves in unusually symmetrical ways. 5
An Evening With Satan – Amusing premise, solid execution, but the real devil would've unleashed a plague of locusts upon hearing the your-one-minute-is-up "thank you!" from the side of the stage. The nerve! 3
The Last Man on Earth – Mimes in a tribute to the silent movie era. How would they know they were mimes? 5
Invisible Child: Leilani Muir and the Alberta Eugenics Board – Monologue appears to be more of a journalistic socio-political lecture than a play. Did we come to the Fringe to learn? Sure. 3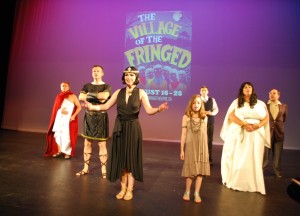 My Cleopatra (right) – Elaborate musical costume drama apparently dealing with the assassination of Julius Caesar. Could be fun. 4
Four in the Crib – Four old British people talk about sex, inherent comedy therein, though a few things may be lost in translation. 3
Moon People – An encounter between a star and one of her more devoted fans. Could get weird, a female Fight Club sort of vibe. 3
Geography Club – Gay bromance. Can't go wrong. 3
Finding Nymma – A bespectacled woman remembers her awkward school years. Detecting potential for both comedy and poignancy. 4
Reefer Madness – A musical based on Reefer Madness. Almost writes itself, dig? It's fun to laugh at the people of the past, said the people of the future. 5
Homewrecker Hot Dogs, The Hillbilly Hip-Hopera – Just like the title says: Two MCs dressed like Jethro trade rhymes with a dancing bear. Like an episode of Zoinked. 4
MIDDLETON a folk musical – Woman sets the tone with the line, "The hands that held me were still hitting me." Heavy. 3
"Fortunately Unfortunate" by Marcus Spencer – Guy, apparently an actor, talks about being an actor and wanting more than anything to work with Tina Fey. 3
Spring Awakening (the musical) – Women in old-fashioned attire sing gospel music like they mean it (top picture). 5
A Bronte Burlesque – Absurd Monty Python-ish piece exploring the life and times of novelist Charlotte Bronte, or so it seems. 4
The Colander Gals – Housework likened to coal mining by three pitchy women. 3
Fools for Love – Again, just like the title. A pair of clowns find love, leave lots of crumbs in their wake. 5
THE COMPLETE HISTORY OF THE WORLD IN 60 MINUTES – Outrageous fop, with his manservant, promises the title of the play, comes off like King Julien from the animated feature Madagascar. 4
D&D: Improv Edition – Like regular comedy improv, just with more saving throws and, surprisingly, music. 4
Cook for Two for One – A large man talks about his love of food, and we are to laugh with him, guiltily. 4