Captain Tractor singer scores top job at Alberta Music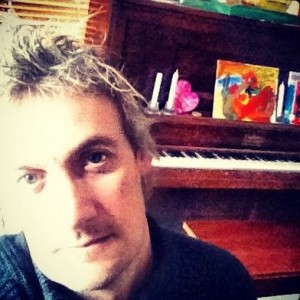 We're going to have to start calling them General Tractor now. Major Tractor, at least.
Chris Wynters, co-founder of the venerable local Celtic rock band Captain Tractor, has been named the new executive director of the Alberta Music Industry Association (AMIA), it was announced Tuesday. He replaces outgoing director Kennedy Jenson.
As a musician with one foot firmly in musical theatre – starring in the next installment of Four Lads Who Shook the World, opening at the Mayfield Theatre Sept. 4 – Wynters is an interesting choice. Running his own recording studio in addition to his band for almost 20 years, Wynters says he isn't sure how his theatre connections will affect AMIA membership, but it couldn't hurt.
"I think the fact I travel I wider cultural circles will be fairly useful," he says. "I know more people from the classic world and the jazz world, and in musical theatre. I don't think it would be wrong for people in theatre to be part of Alberta Music."
The re-branding of the organization as simply "Alberta Music" is part of an effort to include all aspects of the music business in this province, on record, on stage and every step between. Getting most of its funding from area radio stations in the Canadian Content Development Program, AMIA has a simple mandate: To promote Alberta musicians. The group, whose membership is open to anyone working in music in Alberta, even if not making a living at it, can help with networking, with putting different people together, career development and with applying for grant money.
Wynters, who officially takes over at the annual general meeting Sept. 17, says he already has a few ideas. "I think the focus of what I want to do is work on becoming a lot more visible, at festivals and conferences and really get our behind artists who are at these evens, where they really need support."
Watch for AMIA's booth at the Edmonton Folk Music Festival.