REVIEW: Yanni's unmemorable music comes alive on stage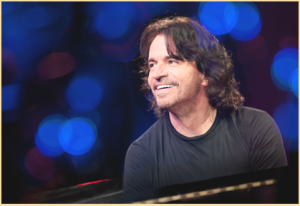 Here's a phrase you may never have seen before: Yanni rocks.
Sure, it's not like the traditional way you might say, "Nickelback rocks, man!" but the high priest of New Age music defied every expectation by putting on an upbeat, vibrant and – dare I say it – rockin' show at the Jubilee Auditorium on Tuesday night. His music comes alive on stage.
You likely know Yanni (real name Yiannis Hryssomallis) from his endlessly-repeated PBS fundraising specials. PBS and Yanni have been good for each other; his breakthrough performance, Yanni Live at the Acropolis, a lavish spectacle the canny musician financed with his own money, is the second-largest selling music video ever. It made him a megastar in the often syrupy, string-heavy, vaguely foreign-sounding genre called New Age music.
If you know Yanni from occasional glimpses of his PBS shows, you'll know "The Look." Long, jet black Greek hair billowing in the ever-present breeze, with former TV siren Linda Evans gazing on, eyes glistening, at her Greek God. Yanni and Linda Evans split up some years ago, and while Evans has faded into obscurity (time is not kind to former TV beauties), Yanni survives.
Why does it work? Partly, because you can play it almost anywhere in the world and find someone who will like it; it's not for nothing that his 2003 CD was called "Ethnicity." It's vaguely Middle Eastern, a little bit Far Eastern, with a hint or two of Afrobeat.
It's pleasant to listen to, and nice music to have playing while you're writing in your journal or making dinner. But memorable? Hardly. Most of his recorded music sounds like the kind of stuff they play in the background on the Weather Network.
So I anticipated a pleasant, if somewhat sleepy evening at the Jube – "Yawny" – but the live experience was different.
He's a middling musician – his keyboard playing is good, not particularly outstanding – but he is a canny enough showman to surround himself with extraordinary musical talent. The 15-member orchestra was outstanding, and Yanni gave almost everyone lengthy solos. Who would have thought that you'd have to go to a Yanni concert to hear a thumping bass solo (Gabriel Vivas) a marathon drum solo (Charlie Adams) a harp solo (Victor Espinola), multiple violin solos (the awesome Samvel Yervinyan and the equally awesome and quite lovely Mary Simpson), and, just for the hell of it, a flugelhorn solo (Jason Carder)?
Give Yanni his due. While the spotlight never left him, Yanni was really quite charming, even gently mocking the eager audience for applauding the musicians – after their warm up. His between songs patter elicited a number of "awwws" from the enraptured audience. By the end of the two-hour show, Yanni had many in the crowd on their feet, dancing in that disturbing middle-aged person's way. Some even rushed the stage. OK, rushed very slowly. It was a love-in.
As good as the show was, his music remains surprisingly forgettable. Yanni's music seems to go in one ear, briefly take up residence like a welcome house guest, then depart, leaving no trace.
But the live show? Well, it rocked. Seriously.