WEEKEND MUSIC PREVIEW: Feral Children at large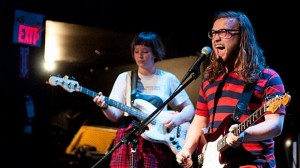 With all due respect to every musician in the city who's playing a gig this weekend, you probably should've re-thought the date. The vast majority of the city's music fans, industry, and new and old media will be swarming Gallagher Hill for the 2012 version of the Edmonton Folk Music Festival. For more on the event, you can check out our recent articles on Corb Lund, Royal Wood and the Five Acts You Must See.
Elsewhere in the city – and maybe you just weren't able to get tickets, or maybe the lineup at EFMF is a little too old-school for your tastes – there are some worthy gigs to check out.
Friday
Heaviside – An evening of hard rock awaits you at the Pawn Shop, which features this local band, as well as Kickupafuss, Dusty Tucker and Fair Blue. Prepare for some epic guitar solos, which will most assuredly be absent at Folk Fest. 8 pm, $10.
Left Behinds – This quartet actually met while working at a liquor store, though we don't know for sure if they were imbibing at the time. Probably not. Part folk, part Canadiana, part rock, the group is young (having just formed in 2010), but oh, so intense. One of Edmonton's favorite songstresses Lyra Brown and Lucky and Stoned open. Bohemia, 8 pm, $7.
Grounded Star – This is a local punk/prog-rock trio whose founder Ryan studied music theory at Grant MacEwan; the bassist was one of his students. Handsome Distraction and Small Town Knife Fight also perform. Brixx, 9 pm.
Also of note, if you're at the Edmonton Eskimos game, the halftime show will feature Salt-N-Pepa, one of hip hop's first all-female groups. While their most lasting hit is probably 1986's "Push It," which hit the top twenty in the U.S. and the U.K., other songs you may recall include "Let's Talk About Sex" and "Whatta Man", recorded with En Vogue. Halftime show, Commonwealth Stadium
Saturday
Random Falter – This quartet was initially founded by Trent and Trevor Diehl, but since adding jazz-trained saxophonist/keyboardist Vanessa its music has blossomed into an eclectic, willowy pop-rock sound that has an ethereal elegance to it. Sit Down Tracy and James of Dark Wood also perform. Brixx, 9 pm.
Feral Children/Zombifyus – These two Saskatoon bands are featured at the Wunderbar. Feral Children in particular has been receiving accolades for their experimental-psych-pop sound. You might even be able to catch part of this show after the folk festival is over, as the venue isn't that far from Gallagher Park. Consider it your unofficial after-party. Local bands Brazilian Money and Energetic Action also perform. 9 pm, $7.
Sunday
Forever I – This hardcore group out of Winnipeg was founded in 2009, releasing its debut EP "Take Your Shot" in the fall of 2011. They'll be joined by post-hardcore Something You Whisper from Cambridge, Ontario; and Leduc's very own Last Chance Hollywood. The Artery, 8 pm, $8.