REVIEW: Cirque du Soleil's Quidam defies the laws of physics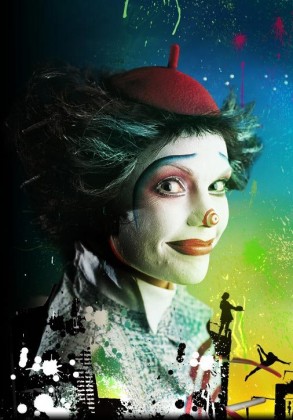 You can really summarize any Cirque du Soleil show by calling it an amped-up adult circus, a collection of incredible and joyous athletic feats punctuated by complete lunacy.
Quidam, which runs through Sunday at Rexall Place, is no different. The stunts that are performed leave you spellbound, and then they usually crank it up a notch or two before moving on.
Certainly one would expect a little different atmosphere with a traveling show as opposed to a permanent setting such as Las Vegas or Orlando. But the performers in this new touring production are no less spectacular, the feats no less daring or dangerous. Perhaps the venue isn't quite as classy, the set not quite as elaborate, the seats not quite as comfy as you might find at the Bellagio, but this show was impressive enough.
Cirque has the power to remind adults of their childhood. Maybe it's partly the feeling of being at a circus, however twisted and contorted. Maybe it's that they take seemingly ordinary objects and do the improbable with them – like jumping rope inside of a jumping rope inside of another jumping rope. Or how about more than a dozen people moving in amongst five jumping ropes simultaneously? Maybe the laws of physics don't apply at a Cirque du Soleil performance.
If there was any flaw to the evening, it was the plot. There wasn't much. A little girl is ignored by her parents so she immerses herself in a land of imagination, which is where all the magic happens. The story definitely doesn't arc or ebb or flow, and is definitely one of the weaker plot lines of any of the Cirque shows. The point where girl hugs her parents and everything is perfect once again seems abrupt and illogical. There was also an extremely rare miscue which was glossed over perfectly by the performers, simply pausing until a point they could regain their moment whilst other actions occurred. Most people probably wouldn't even notice.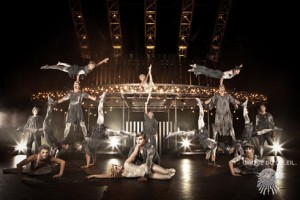 There were an incredible number of highlights. You might ask yourself, "How do they do that without vomiting?" upon seeing a trio of female sprites leaping and somersaulting through the air as part of an acrobatic human pyramid sequence. There was a double-twist sit-down by a trapeze artist swinging through where the Rexall scoreboard would usually be. Another group spun around at incredible speeds while doing seemingly impossible tricks with hoops suspended from the scaffolding that spanned the main stage and into the audience. An improvised audience participation skit ended with an attendee being "shot" and choking himself with his own esophagus. Later on, a contortionist-strongperson duo that moved in slow motion accomplished superhuman feats of strength.
This is a spectacular evening of non-stop entertainment – one that shouldn't be missed, even if you've been to Vegas.