FOLK FEST: Guitar heroes teach amazing lessons in Master Class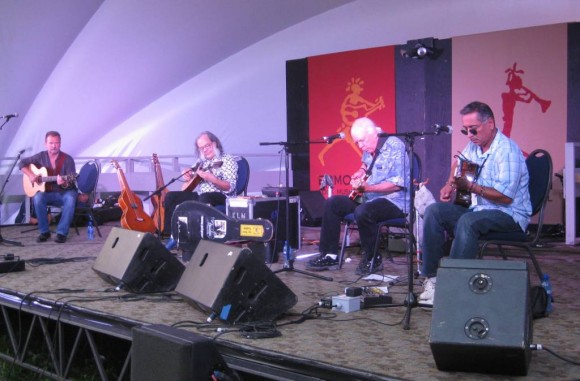 "Master Class" is definitely the correct name for the guitar session that took place at the Edmonton Folk Music Festival on Friday night.
Martin Simpson, Oscar Lopez, David Lindley and Amos Garrett are what you'd call jaw-dropping good. Beyond technical mastery, these guys have pushed the boundaries of guitar across tuning, style, genre and ethnic barriers. They can play anything with anyone: from blues to African, from Middle Eastern to rock 'n' roll, from Celtic to country, and from Latin to surf music. Their collective credits could fill a book. If you've been to the festival before, you've probably seen at least one of them because they've all played the festival several times over the years. Beyond all the mainstage headliners – which on Friday included Emmylou Harris, the Barr Brothers and the Guthrie Family Reunion – musicians like this are the reason to go to the folk fest. And just because they played together in various combinations many times doesn't mean they still can't surprise and delight one another, even intimidate.
As David Lindley put it, "The first time I saw Martin Simpson he scared the living shit out of me."
Just a few highlights here: Simpson kicked off the set with the bluegrass classic "In The Pines," with Lindley's perfect accompaniment. A few minutes later, Lindley played a slide guitar piece, Bruce Springsteen's "Me and The Brothers Under The Bridge," while Simpson added quivering blues riffs that sounded like a saw. Garrett took his turn with the Hoagy Carmichael classic "Hong Kong Blues" (featured in the 1944 Humphrey Bogart/Lauren Bacall film To Have And Have Not) and got the other three guitarists to "solo as Asian as possible" all at once. Later on, they jammed on a Mardi Gras Indian version of "Little Liza Jane" for an audience sing-along. Lopez called a three chord Latin Blues. They played the song Neil Armstrong was listening to on his headphones when he walked on the moon: Santo & Johnny's famous '50s anthem "Sleep Walk."
When the guitarists weren't dazzling the audience with their mastery, they were cracking jokes. Their rapport with one another was obvious. Garrett told a story about his father sleepwalking naked. Oscar Lopez talked about his effects pedal, "This thing don't work. I just like to press buttons."
The hour and a half session flew by in a blur of guitar bliss. Hawaii and New Orleans were touched on before they finished "My Baby She's a Good One" by Otis Rush. By the end, the awe-struck guitar players in the audience must have been vowing to practice harder – inspired students of the Master Class.