ANNOUNCING: Marianas Trench and Maya Angelou in October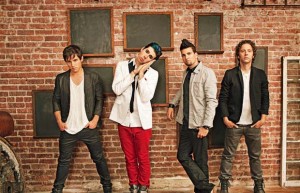 Pop quiz: What modern pop-rock band sort of sounds like Nickelback and is named for the deepest point of the Earth's oceans?
If you answered Marianas Trench, you're probably already hip to the Vancouver band's impending tour, coming to Rexall Place Monday, Oct. 29. With Down With Webster in support, tickets go on sale Friday. Marianas Trench is touring behind its latest album, "Ever After," and the hit singles within, including Fallout.
The Nickelback connection is no accident – and you can at least hear melodic similarities in a couple of tunes. The band released its full-length debut album, Fix Me, on 604 Records, owned by Nickelback singer Chad Kroeger, who has had a powerful influence on a number of Canadian rock bands. Marianas Trench was last in town opening for Simple Plan in February, where they almost went over better than the headliner, especially among the women in love with lead singer Josh Ramsay, who is a good deal younger and better looking than Chad Kroeger. Just sayin'.
Next on the Monday announce queue is an event it would be surprising to see any Marianas Trench fans interested in, though you just never know – poet Maya Angelou. The author, poet, triple Grammy winner and Oprah pal will speak at the Winspear Centre on Tuesday, Oct. 25. From a life of abuse and upheaval, she has persevered to become of the most influential authors and speakers, her wise words heeded by presidents and celebrities all over the world. Tickets are on sale at the Winspear box office.