FOLK FEST WRAP: Dr. John rocks in his dragon socks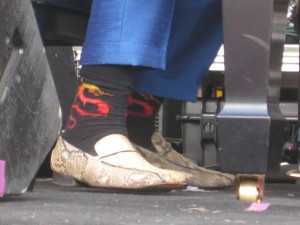 Dr. John wears dragon socks inside of snakeskin shoes. Perfect.
It's the little details that help create some favourite memories of Edmonton Folk Music Festival, which wrapped up its 33rd edition at Gallagher Park on Sunday.
In a workshop called "Treme" – after the New Orleans district hard hit by Hurricane Katrina – Dr. John was performing with Big Sam's Funky Nation, Jon Cleary, Cyril Neville, Big Chief Monk and a couple of other Mardi Gras Indians in full regalia, for three hours on Stage 1 Sunday afternoon. The audience was on its feet almost the entire time, clapping and singing along, and if they were close enough, admiring Dr. John's funky footwear.
There were other favourite moments: Ricky Skaggs talking about Bee Gee Barry Gibb singing on his new CD for a song called "You Can't Hurt Ham"; or discovering a couple of new blues bands like MonkeyJunk and The Barr Brothers, whose member Sarah Page plays the full-size, six-and-a-half octave, 47 string number – not your usual harmonica. There are dozens more highlights. Too many to list.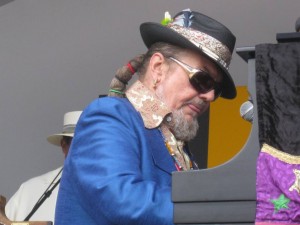 There were a few problems, but not many. Aside from the ticketing woes before the event started, Saturday's "Trad" session had more musicians on stage than Tilley hats in the audience. Producer Terry Wickham, in a round-up press conference on Sunday afternoon, admitted, "I could have probably put that on stage six, if I look back on it.  There were too many. That's why we've got bigger stages … We certainly push the limits all the time but we seem to manage to make it work."
There were many complaints about line-ups – particularly at the ETS Park and Ride Butterdome lot during peak hours. Some fans got fed up and called taxis instead; not to mention a huge queue for cabs after the festival ended. (Edmonton cabbies kindly waited until the event was over to go on strike.) Don't blame the folk festival for transportation, though. It's one of the city's two major car-free festivals.
Commonly dealing with up to "15 to 20 problems a day," Wickham said this year was "pretty gentle in the normal scheme of things. Gate entry is a lot smoother this year. People are getting in quicker." His main worry is the aging volunteer base. He wants volunteers to start writing down what they do so they "don't lose the organizational memory that's been built up over the years."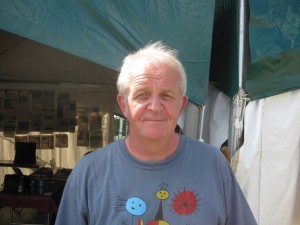 Wickham, alone, could probably write a book. Asked about his own favourite music this year he also cited The Barr Brothers from Montreal, who "did brilliantly … Plus, "James Vincent McMorrow. Ricky Skaggs. Emmylou Harris. Mary Chapin Carpenter did a great set. No one has disappointed me," Wickham said.
In the end, it's all about the music – his only criteria for choosing artists.
"They have to be very, very talented… quality is what we're looking for in all areas, whether the production, or the tents, even the toilets. We're turning away 100 artists for every one we take."
In the end, the quality is what stays in your memory – that and Dr. John's dragon socks.
(Photos by Barry Hammond)
(More folk fest coverage here: Guitar Heroes Teach Amazing Lessons in Master Class. )