FILM: Who decides which movies our kids can watch?
Posted on August 14, 2012 By Rob Drinkwater Culture, Film
There's no popcorn or soda for sale at Alberta's most important movie theatre. There's no marquee out front to say what's playing. Inside, there are state-of-the-art digital and 3-D projectors, Dolby sound, leather reclining chairs and movies so new they're not even in regular theatres yet.
Crowds are never a problem. Most times there's only three in the audience – the Film Classification Officers who work for the provincial government. They're in charge of rating all the movies we pay to see.
The 25-seat facility exists almost completely unknown to the movie-going public in a former multiplex cinema building in South Edmonton, which is now mostly occupied by the Whitemud Crossing branch of the Edmonton Public Library.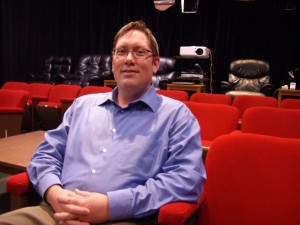 "We call it a screening room. It isn't so much a theatre," explains Paul Pearson, the director of Arts Services (right), who is in charge of the facility. "We try to re-create the theatre viewing experience as closely as possible."
According to Alberta's Film and Video Classification Act which came into effect in 2009, all films screened in theatres for a fee must receive and display a rating from the province. Some exemptions are available for free screenings or film festivals, but pretty much everything else comes through here except for home video and pornography, which the Act doesn't cover. Two, sometimes three, films are rated here every day. Everyone knows what "G" means: anyone of any age can buy a ticket. "PG" means that parental guidance is advised, but kids can still see it by themselves. "14-A" means an adult must go in with you if you're under 14, same with "18-A" if you're under 18, while "R" means no one under 18 is allowed in at all.
Occasionally, members of the public are brought into the theatre to re-screen a movie if a distributor disagrees with a rating. It doesn't happen often – only twice in the last two years. They include the 2011 comedy "30 Minutes or Less," which starred Jesse Eisenberg in a plot where a pizza delivery driver is coerced to rob a bank, and "Wanderlust" with Jennifer Aniston and Paul Rudd. The volunteers decided the 18-A rating should stand for "30 Minutes or Less" due to crude sexual content, while they agreed to drop the rating for "Wanderlust" to 14-A from the more restrictive 18-A.
Pearson explains that since the new act replaced the old Amusements Act, the province can't ban or cut movies anymore. All it does now is determine under what conditions a person of a certain age can view a film. The new act also enables the province to keep pace with technology. The Amusements Act originated from 1912 and contained regulations for things like "magic lantern shows." Now we have digital 3D.
Shortly after the new act was passed, industry groups criticized it for lacking an appeal process and said that all of the power to rate movies was being placed in the hands of what the media dubbed a "Film Czar." According to the regulations for the act, the only official recourse for a distributor unhappy with a rating is to write the minister and request a review. Technically, Pearson says, he is the "Czar" the critics are referring to, but points out that the process for getting a film rated is the same as it was before, and so is the appeal process. While it isn't written in legislation, the province keeps a list of volunteers who can be called on short notice to re-screen a film and overrule a rating. While anyone can apply to be on the panel, preference is given to parents or teachers or anyone else with experience taking children to the movies.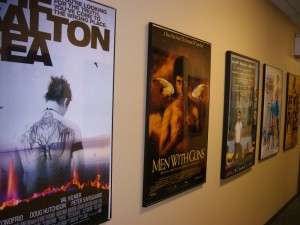 Since teenagers make up a huge percentage of the movie-going public, distributors care a lot about ratings. A lot of money is riding on the decisions of the volunteer screeners.
"We gather their feedback and have a long discussion afterward. They take notes – we give them a bit of training. They're just regular Albertans with kids," Pearson says. "We try to get a balance of professions. We try to get a teacher, a parent. Variety is good," he continues. "They also have to be people who can sit through some questionable content. They have to be able to handle 'Saw,' or 'Jackass.'"
The full time Film Classification Officers are highly-trained, with degrees in psychology, education or film studies. All three – currently Gwen Howard, Gerry Larson and Jill Shillabeer – watch all the major releases, so if there's any disagreement in the classification it can be a simple majority vote. In addition to assigning ratings, they write short, spoiler-free classification reports of each movie that are posted on www.albertafilmratings.ca.
"That way, Albertans know what they're getting into before going," Pearson says, noting there were more than 250,000 visits to the site last year.
The latest Batman movie, The Dark Knight Rises (top picture), for example, gets a 14-A rating for "brutal genre violence." Content notes warn of "infrequent profanity, mild cursing, and mild vulgar expressions; Frequent weapons and hand-to-hand violence in an action context – detail and impact; Infrequent portrayals of violent deaths and corpses – some detail."
A documentary called "Quadrophenia: Can You See the Real Me?," in which The Who recount the making of their 1973 album, also gets a 14-A rating, "for frequent coarse language and references to drug use." The content notes warn that it has "brief female frontal nudity in a photographic context."
Details about how to become a volunteer re-screener are also available at the rating website.
And just in case you think watching movies for a living is a cushy job, Pearson says, "There are hundreds of films that need to be reviewed. It's a very demanding job – only a certain number of films a year are Oscar-worthy."