FRINGE OF THE PICKS: Locals expected to rise to the top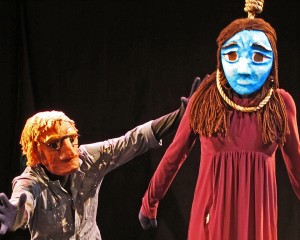 According to a highly scientific study tracking the statistical average quality of Fringe plays over the last 20 years or so, a full sixty per cent of Fringe plays are now at the level of "not bad," up significantly from past ratings of "OK." It's what you say to a friend asking about that play you just saw, "Not bad." Solid, respectable 3 out of 5. Worth your time.
Twenty per cent are bad. Some will be ambitious, elaborate and professionally awful, and others will be bad work by amateurs. It's hard to say which is more heartbreaking.
But then – and this is the reason to go to the Fringe in the first place – the full 20 per cent left over can be described as "great." How was it? It was great! Cue lengthy discussion of how said great work was inspiring, transporting, enthralling, hilarious, thought-provoking, thoroughly wonderful and that everyone must see it as soon as possible if the tickets aren't sold out, which they will be. Word of greatness gets around fast at the Fringe. Twenty per cent! 5 out of 5's all around!
How do you predict, then, what is worth seeing when Edmonton's most extensive performance festival hasn't even started? It runs Aug. 16-26 at more than 52 theatres around town. The best you can do is go with the old show biz saying, it's WHO YOU KNOW, and refer to the local people whose names appear again and again and who have, on more than one occasion, fallen into the elite Twenty Per Cent. Actual results may vary:
Parlour Song, Venue 1. Who we know: Stars Dave Clarke – perennial British wit, local creative force of nature in music, soundtracks, theatre and film – and Michael Peng, who was brilliant playing a troubled schoolteacher in Bashir Lazhar (Fringe 2009), in this story about an existential demolitionist.
7 Ways to Die, a Love Story, Venue 3 (top picture): Kenneth Brown's daughter Keltie (see below) teams up with playwright-actor Alex Forsyth and up-and-coming director and all around extremely busy gal Ellen Chorley for this "romantic comedy performed in full mask."
Marked, Venue 6: Who we know: Playwright Trevor Schmidt seems to have a rare insight into the secrets of womanhood, as fans of the last Northern Light Theatre season can attest (he's the artistic director). All the plays were all about women. Here, Cheryl Jameson stars in a "dance/drama hybrid" about a woman who gets tattooed in her sleep. Dave Clarke does the soundtrack.
The First Canadian President of the United States, Venue 9: Who we know: Jem Rolls is actually from the U.K., but has lived in Edmonton on and off long enough to qualify as an honorary local. This proven Fringe monologist appears to be taking on Canadian politics. We can't wait.
The Haunted Reel, Venue 12: Who we know: And here's Dave Clarke yet again, working with noted local actor and playwright Jeff Page to host a screening of a mysterious "antique" film discovered hidden in the basement of the Garneau Theatre.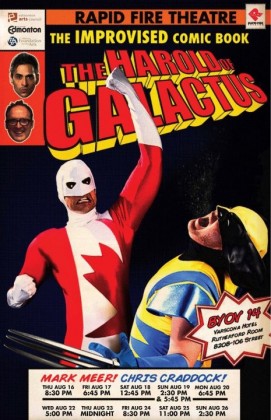 Harold of Galactus, Venue 14: Who we know: Of all the improv/sketch shows at the Fringe, this is one of them – but consider that it stars the highly decorated area comedy thespians Mark Meer and Chris Craddock, who have each played superheroes of a sort, in a life story of a superhero. Can't go wrong.
Game of Death, Venue 17: Who we know: Jacob Banigan, one of the founding lights of Rapid Fire Theatre and now apparently living in Europe bringing improv to the Austrians, returns for a one-man improv/sketch show about mortality – and are we sensing a theme yet?
Apocalypse, a Period Piece, Venue 30: Who we know: It's Chris Craddock again, co-writing and starring in a yarn about two boys who are the last survivors of a nuclear holocaust. It's a comedy.
The Minor Keys, Venue 32: Who we know: David Belke, whose witty, briskly-dialogued plays have become so well known they're called "Belkes." No Fringe would be complete without at least one – or two; his other one this year is called "Von Mitterbrink's Second," at Venue 34.
Afterlives, Venue 35: Who we know: Jon Lachlan Stewart and his Surreal Soreal collective have built a reputation for "surreal" theatre. Hence the name. This exploration of the world beyond is billed a "physical theatre" without dialogue. Jon will be talking, however, in the one-man Fringe play "Rum and Vodka" over at Venue 39.
Bitchslap!, Venue 35: This is a remount (cue rim shot, then another rim shot) of a drag hit starring Darrin Hagen and Trevor Schmidt as Joan Crawford and Bette Davis, respectively, in a show said to live up to its title.
Angels on Horseback, Venue 35. Who we know: Playwright Stewart Lemoine. See David Belke, above, substitute "Lemoine" for "Belke." Times three.
Hey, why does Venue 35 get three entries? It's who you know. The Varscona Theatre is a "BYOV," which means that this theatre in the heart of the Fringe is actually not part of the Fringe. While other producers must go through a lottery to get an "official" Fringe show, and no one has to go through a jury, the opposite policies are in effect with the Varscona gang. They have effectively programmed their own Fringe within the Fringe. Others seem to have followed. Well played, Venue 35.
Four in the Crib, Venue 37: Who we know: David Cheoros used to be the director of the Fringe, now he's back as director (and designer) of a play about four British seniors struggling with independence as death approaches. This, too, is a comedy. Cheoros is also the co-writer of Invisible Child: Leiani Muir and the Alberta Eugenics Board – at this same venue – an altogether heavier work, it appears.
Minding Dad, Venue 43: Who we know: Noted Canadian playwright Kenneth Brown has a done a lot in Edmonton theatre and at the Fringe, and has partnered up with his daughter Keltie, in this play about a son dealing with his father's progressive dementia. They work a couple of other shows at Venue 43.
The Complete History of the World in 60 Minutes, Venue 51: Who we know: Nobody, really, but that doesn't mean anything. The well-known Avenue Theatre should be an excellent place to see a Fringe play even though it's clear the hell across town. It's also worth including his work because it fits the year's theme. What appears to be a newer company is ambitiously promising the title of the play because? You guessed it – the world's going to end.