Holy s—! Edmonton metal band Striker to open for Metallica
Posted on August 15, 2012 By Mike Ross Front Slider, Music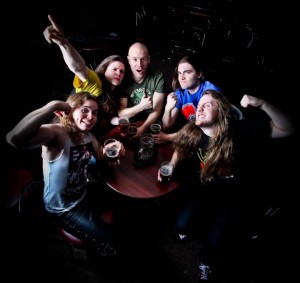 Striker – an Edmonton speed metal band very much in the vein of early Metallica – has won the opening spot for this weekend's Metallica concerts in a contest sponsored by the Bear radio station. They'll play Friday and Saturday at Rexall Place.
The band wasn't immediately available for comment, but posted this statement on its Facebook page: "Holy shiiiiiiiiit!!!!!!"
Shortly after formation in 2007 with singer Dan Cleary, guitarists Ian Sandercock and Chris Segger, bassist Dave Arnold and drummer Adam Brown, Striker set out on a European tour, where they were steeped in the lore of the continent's rich metal scene, and duly inspired. Working hard ever since, even winning fans in Japan, the band has one full-length album, "Eyes of the Night," and another to follow in September: "Armed to the Teeth."
Striker goes on at 7 p.m., Metallica at 8.