WEEKEND MUSIC PREVIEW: OK, fear the Reaper
Posted on August 16, 2012 By Michael Senchuk Music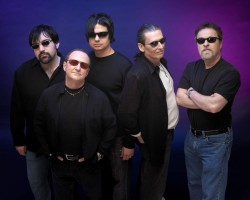 It's Metallica weekend in Edmonton! The near-mythological metal band from California plays two sold-out shows at Rexall, Friday and Saturday nights. Everything else musical this weekend plays second fiddle, like it or not. The only major competition is the Edmonton Rock Music Festival at Hawrelak Park, with headliners like Prism, Blue Oyster Cult and April Wine.
Friday
Metallica, Rexall Place (also Saturday, Aug. 18) – One of the founding members of thrash metal along with Anthrax and Megadeth, this band has gone through a number of evolutions. The quartet has included drummer Lars Ulrich and lead vocalist James Hetfield since its inception in 1981, with Kirk Hammett on lead guitar joining in 1983. Dave Mustaine (now of Megadeth) was kicked out of the band just prior to recording their debut album for drug and alcohol abuse, resulting in a long-term feud. The newest member, bassist Robert Trujillo (who previously performed with Ozzy Osbourne, Suicidal Tendencies, and Infectious Grooves), joined the band in 2003. The band's first bassist Ron McGovney was replaced by Cliff Burton in 1982. A tragic accident in September 1986, where the band's bus flipped several times while touring Europe, resulted in Burton's death. The band had drawn cards for sleeping berths, and Burton, with first choice, chose the top berth. The rest of the band sustained no injuries during the incident.
All of the band's last five albums since the 1991 eponymous effort have peaked in the top spot on the U.S. charts, as well as here in Canada (save ReLoad, which debuted at No. 2). "Enter Sandman" may be their most enduring single; its accompanying video is one of the defining moments of the music video era, with a massive eighteen-wheeler thundering after a boy, intertwined with other nightmares – and the band. The song may be Metallica's biggest hit, but others are more revered by fans: "One", "St. Anger", "Master of Puppets" or "Hero Of the Day."
The band may be most remembered by many, however, for its role in the Napster controversy in the early 2000's, when the band initiated legal action against the file-sharing service for allowing Metallica's music to be freely available online. Napster eventually filed for bankruptcy protection before a settlement could be finalized, but the event started a battle between traditional music labels and "free" downloads of music that continues today.
Edmonton Rock Music Festival – It's great to see the Hawrelak Amphitheatre being used so extensively this year for musical events. This weekend it will feature the second annual offering of this classic rock festival with Kenny Shields & Streetheart, Prism, and Train Wreck. The two main acts spun off a number of hits that will be intimately familiar to fans of the era, with Streetheart's "Here Comes the Night" and "What Kind Of Love Is This"; and Prism's "Spaceship Superstar," "Young And Reckless," and "Night To Remember." Gates open 4 pm, music at 5:15. $39 in advance, $49 at the gate, $75 for an all-weekend pass (advance only). Online tickets here.
California Lane Change – This Leduc band is hosting a release party for its debut full-length album, a follow-up to the EP "Summer Streets" of 2010. You can check out the alt-rock quintet's video for the title track from that EP below. Greater Than Giants, Strong Hearts, and Braves open. Pawn Shop, 8 pm, $10.
Stone Pines – This Vancouver reggae-rock act is touring western Canada supporting its newest album "Landmark." Haven Social Club, 8 pm, $10.
Kusch/99 A Hundred – The former, the stage name for Kurtis Schultz, releases a new EP. The latter is the newest formation of Shout Out Out Out Out members. That's really all you should need to know to keep this at the top of your priority list for the weekend. Wunderbar, 9 pm, $10.
Saturday
Edmonton Rock Music Festival – The rock just keeps on coming with Blue Oyster Cult (right), April Wine, Trooper, Barney Bentall & the Legendary Hearts, Recollection Blues Band, and the Sean Sonego Band. Barney Bentall's eponymous debut spun off three Canadian hit singles in 1988, including his most famous "Something To Live For." He took some time off to tend to his ranch in the Cariboo region of British Columbia before returning with a solo album in 2006. April Wine's resume speaks for itself – 21 top forty hits in Canada, from 1971's "You Could Have Been A Lady," to 1993's "If You Believe In Me." You may also remember "Tonight Is a Wonderful Night To Fall In Love", "Rock And Roll Is a Vicious Game", and "Just Between You and Me." You only need four words to describe Trooper: "Raise A Little Hell," likewise Blue Oyster Cult: "Don't Fear the Reaper."