REVIEW: Jersey Boys a gem – superb songs with a story to match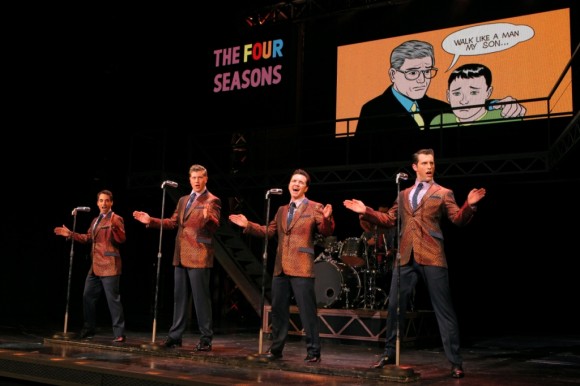 Jersey Boys sounded like a pretty lame premise for a hit Broadway musical. I mean, c'mon, the Four Seasons? Can you base an entire show on "Walk Like a Man"?
As it turns out, you can.
The story of four Guidos whose rose from the streets (literally — they started singing on street corners) to the Rock and Roll Hall of Fame won four Tonys in 2006, and it has finally found its way to the Jubilee Auditorium stage. It's worth the wait – Jersey Boys is a gem. It plays through Sept. 2.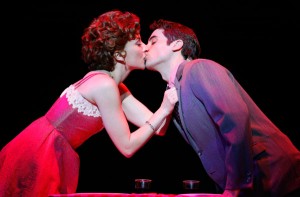 This isn't a hodge-podge of songs thrown together on a stage, a la Mama Mia! of the ABBA catalogue, or any number of "Four Lads from Liverpool" kind of shows. It's much deeper – thanks to its emphasis as much on the story of the Four Seasons as the songs (it is co-written by Marshall Brickman, a frequent collaborator of Woody Allen). The group's history is so rich, so filled with characters and corny (but true) showbiz stories that it could actually succeed without the music.
The guys who would become the Four Seasons are vividly rendered characters. There's Tommy DeVito, the hustling founder of the group, a classic goombah whose links to the mob and questionable business tactics nearly ruined everything. There's Bob Gaudio, the songwriter who enjoyed success at age 15 with the wretched song "Short Shorts," but who went on to pen most of the band's great hits (Sherry, Big Girls Don't Cry, Walk Like a Man and Can't Take My Eyes Off You, which was nearly not released). And of course there's Frankie Valli, a relative innocent with one of the most distinctive voices in the history of popular music.
The Valli character is really the only weak point in this production. Nick Cosgrove has the monumental task of attempting to replicate Valli's remarkable falsetto, and he's not up to the task. At times he hits the mark, but overall he's far too nasal to pass himself off as Valli.
But that's a minor quibble – Jersey Boys works terrifically. It's a reminder of what superbly crafted pop song sounds like, and it has a great story to go with it.