REVIEW: Metallica overcomes its own spectacle
Posted on August 18, 2012 By Wayne Arthurson Music, The Latest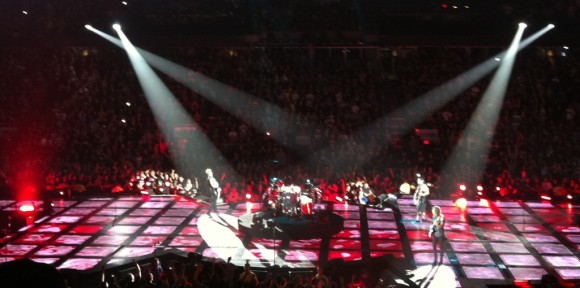 These days it's hard to be surprised by a rock concert.
It's all spectacle now: explosions, lasers, columns of flames, 25 foot tall statues, all on a stage the size of a Borg ship covered by an infinity of lights. The music, even the band, seems almost secondary.
Metallica's sold out show at the Coliseum Friday night went merrily down that spectacle road. The stage itself was immense, an oddly shaped X that covered almost two thirds of the ice surface. It was so large the members of Metallica seemed lost in it, tiny figures moving back and forth, trying to connect with various sections of the crowd only to realize that they had to go to another location so as not to alienate that part of the crowd. At least drummer Lars Ulrich was relatively stable, stuck in the middle on drum riser that would rotate every 20 minutes so you didn't have to spend the whole show looking at his bald spot.
The floor had its own lighting system, flames blew out of it on a regular basis and the light show was dazzling to the 17th degree. There was Spinal Tap sense to some of it, especially when a lighting arm malfunctioned and a trio of roadies brought out a ladder to fix things.
Musically, Metallica was Metallica: tight, loud, intense at times, pulling out all the stops from their deep catalogue. If you want a play by play of the songs as if it was a sporting event, read another review.
But in a few words, Metallica, as a band, was completely awesome. James Hetfield's vocals are still incredible, growling with angst and pain. He and guitarist Kirk Hammett roared through their instruments, but with finesse and subtlety. Bassist Robert Truilljo bounced and stalked the stage while drummer Ulrich banged away, bouncing up and down on his throne like a little kid on a new bike.
But throughout the show, one kept wondering why such an incredible band would need all those flashy bits that require a parking lot full of semis to carry them from city to city.
And then it all went wrong. Or was it right? But something happened, the event that turned this awesome yet soulless show into something completely wonderful. There was a quick fire, on that same lighting rig that those roadies earlier tried to fix. Then an explosion out of nowhere, a roadie caught on fire and dashed across the stage. Bits of lighting rig fell out of the sky and so did another roadie, albeit attached to a line. The band dashed off the stage and more roadies came on, bringing a back board and carrying their injured colleague off.
For a moment, it seemed all too real and headlines of "Disaster at Edmonton Metallica Concert" flashed.
Fortunately, it was all a ruse, a ploy to get rid of all the lights, the lasers, the explosions, all the flashing bits that made the show more spectacle than performance.
"It's just like back in the garage when we started," Hetfield said. "Do you wanna go back to our garage?"
The crowd roared with approval and everyone was transported back to Kill 'em All, finishing the show with Seek and Destroy. Those last 20 minutes were brilliant, full of fire without the actual fire, full of connection and emotion that the giant stage set up seemed to have sucked away. It was Metallica, simply Metallica. Nothing else was necessary.
The other great moment was the presence of local band Striker as the opening act. Kudos for Metallica, the promoter and The Bear radio station for making this happen because Striker showed that they had the chops, the stage presence and the capability to play on the big stage. Hopefully this idea of local bands opening the big shows becomes more of a regular thing, because Striker did Edmonton proud, holding its own with one of the biggest rock bands on the planet.