The unwritten (until now) rules of the Fringe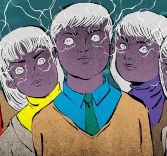 At the front of the Fringe program is a list of rules – "Village Bylaws" – with things like arriving early, refraining from bringing your cat or turning your cellphone off at a play. Really? Do we still need to be reminded to turn our cellphones off at the theatre? Half the Fringe shows this year don't even bother with the "turn off your phone" spiel anymore. Here are some new rules they didn't publish:
1. In venues without air conditioning, a certain amount of B.O. must be tolerated, but there is a limit.
2. Don't give too much importance to the "star" ratings in the newspapers. Read the damned reviews. Fringe critics don't put these consumer-friendly stickers on their reviews because they want to. They're forced to do it by their bosses. How do you compare rotten apples with mouldy oranges? You can't. On the other hand, the ratings are equally meaningless for everyone so at least it's a level playing field.
3. There are more one-man comedies than one-woman comedies. Something needs to be done to redress this inequality.
4. You can help stop a disturbing trend by fleeing straight after the final bow. You see a great play, give it a standing ovation, wipe a tear from your eye and get ready to ponder the deep metaphysical meanings of what you just experienced only to get your mood blown by the inevitable, fourth-wall-smashing, post-performance speech – "hey, thanks for coming!" Quit it.
5. Pre-fold your tickets to make them easier for the volunteer usher to tear on the way into the theatre. If everyone did this, it would save thousands of man-hours of line ups.
6. Remember that a bad play by amateurs is more heartbreaking than a bad professional play. That just makes you feel ripped off, even though the end result is the same – an hour of your life and $12.50 you'll never get back.
7. If a performer forces you to participate in his or her show, demand a cut of the ticket sales.
8. Check the rating codes carefully. If a play contains awkward topics, violence, nudity, sexual content and adult language, chances are it will be sold out.
9. If you make eye contact with a Fringe busker, you owe them a dollar.