FRINGE EXCLUSIVE: Inside the Critics Studio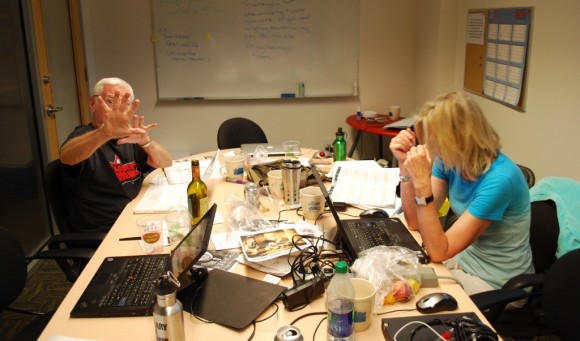 There is a secret room located deep in the bowels of the Fringe headquarters where the hopes, dreams, aspirations, talent and hard work of theatre artists are CRUSHED by the bucketful.
It's the "media room," where Fringe theatre critics practice their art for 10 days every August. More than 65 journalists, broadcasters and bloggers are covering the event this year.
Many are theatre critics only during the Fringe, but after a recent informal poll, it's obvious they love what they do – most of them, anyway – whatever their level of expertise. Veterans like Liz Nichols from the Edmonton Journal and Colin Maclean from the Edmonton Sun practically live at the Fringe, seeing dozens of plays and writing dozens of reviews until it's all a blur. Other critics work in the field, and might only stop by the Media Room if they're hiding from actors they slammed in a review. Vue magazine, for instance, stations a critic at each venue, and by now has reviewed EVERY ONE of the 215 shows at Village of the Fringed.
Fringe critics don't take their job lightly. We (myself included, for the Edmonton Sun) really sweat over writing reviews, talk to one another about the difficult plays, worry over adjectives and metaphor and the proper use of the term "compelling." It's exhausting work. Four or five 12-hour days of sweltering venues and excruciating musicals, one-man shows and performance art happenings in a row can take their toll. Bad Fringe food and good wine don't help.
Why are there so many damned critics? It's because Fringe shows live or die by their reviews. The more plays there are, the more this is the case. Competition for audiences is fierce. Five stars across the board can mean sell-outs, hold-overs, a potential for good money and a bright future. One star? Disaster. Unless there's gratuitous nudity.
Critics are a necessary part of the Fringe, at the very least in helping the public sift through the daunting number of choices. The artists, meanwhile, have a love-hate relationship with the critics – they love the good reviews and really, REALLY hate the bad ones. Grudges can last for decades. The critics seem to be well aware of their moral standing in the artistic world, that they're at the same basic karmic level as a guy who writes parking tickets, and suspect deep in their hearts there may never be a statue erected honouring a theatre critic.
Meet the Fringe Critics (Part 1):
Liz Nichols, Edmonton Journal
Q: How many Fringes have you covered?
A: All but one, so 30 years.
Q: What qualifies you to be a Fringe theatre critic?
A: Experience, I suppose. I've been with the Journal for three decades. My first assignment as theatre reviewer [after earning a Master's degree in theatre studies at the U of A] was covering the Fringe festival.
Q: What's the best thing you've seen this year?
A: Afterlives – it's a dance theatre triptych from a company that is very good with words, but has decided to dispense with them for this experiment. It's wonderful, beautiful, sharp, well-executed, smart.
Q: What's the most difficult thing about being a Fringe critic?
A: To think fast and experience the play, to not be programmed too much by your preconceptions, to experience it as a live event, in the moment.
Paul Blinov, arts writer, Vue magazine
How many Fringes covered: Six.
Qualifications: I'm a theatre critic throughout the rest of the year and just enjoy the form in general, I enjoy art in general. I find the reason I do this generally is whenever I see something I truly enjoy, whether it's a play or improv or a dance piece, I have a gut reaction I enjoy talking about. Writing about it is a good way to unpack how I feel about something.
Best play seen: I feel there's one being overlooked that should get more credit than it's getting: Underbelly, which is at La Cite, done by the fellow that did Giant Invisible Robot. He's channelling William S. Burroughs in a series of monologues.
Most difficult thing about being a critic: Writing bad reviews when you know someone's going to read them and feel terrible. It's never what you set out to do, but I just have to write honestly about what I saw.
Todd James, Global TV/K-97
How may Fringes: Second year with Global, did my first Fringe for K-97 – when I was there the first time – 20 years ago.
Qualifications: I think you just have a show up and watch a lot plays. I used to have a theatre background, I used to be a bit of an ACTOR myself [his emphasis], back in the day, and I guess that gives me a little bit of a qualification, and I see a lot of plays throughout the year. I don't just show up at the Fringe to see plays.
Best play seen: Last Man on Earth. I'm a big fan of silent movies and this is a silent play. It stuck with me. I verklempt a few times. I had some strong feelings. I perhaps was weeping a little bit of man tears.
Most difficult thing about being a critic: There's so many plays that are out there, 200 plus. You see five or six plays a day and you have to be really quick in getting your thoughts down and moving onto the next one, and not having the play you just saw colour the play you're about to see.
NEXT ON "MEET THE CRITICS" – Family ties.