WEEKEND MUSIC PREVIEW: Rock legends descend on Edmonton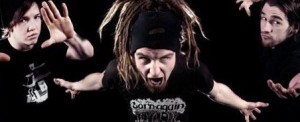 While the calendar continues to be dominated by the Edmonton International Fringe Festival, never let it be said that this city doesn't honor musical legends, as three bands that saw the peak of their careers in the 1980s and 1990s perform around town this weekend – The Cult, Refused, and the Headpins. The Edmonton Blues Festival also takes over the Hawrelak Amphitheatre Friday through Sunday.
Friday
Headpins – Originally formed as a side project of Chilliwack in the 1970s, this band reached the height of its popularity in 1982-83 with the hit singles "Don't It Make You Feel" and "Just One More Time." Prism, which was in town last weekend with the Edmonton Rock Music Festival, shares the bill. Century Casino, 7 pm, $29.95.
Fire Next Time – This local punk-folk hybrid headlines a show at Pawn Shop, along with E-Town Beatdown and Freshman Years. 8 pm, $10.
The Cult – The old school rock weekend continues with this British band perhaps best known for the 1985 hit "She Sells Sanctuary," before veering decidedly more mainstream in the late '80s and releasing tracks like "Love Removal Machine" and "Fire Woman", bringing them significant success on this side of the ocean as well. Gloryhound opens. Edmonton Event Centre, 9 pm, $47.34 (includes service charges) and up.
Saturday
Ninjaspy (top) – This experimental metal act from Vancouver is comprised of three brothers – Joel, Tim and Adam Parent –whose music reflects a variety of influences, all the way through reggae and ska. They're currently touring to support their newest release, an EP titled "NO KATA". Annex Theory opens. Pawn Shop, 6 pm, $10.
Refused – Founded in 1991, this epically famous (or is that infamous) Swedish hardcore punk band released three full-length albums and five EP's in a whirling dervish of sonic assault during a coarse, seven year lifecycle. The band's reunion in 2012 evolved from a single show at Coachella. Now it's an entire tour. The Edmonton show recently moved venues from the Shaw Conference Centre to the Edmonton Event Centre, likely due to slower ticket sales than expected. More interestingly, the move engendered some controversy amongst local fans, as the band, staunch if not nearly militaristic anti-capitalism supporters, are now playing in a bar attached to one of the largest malls in the world. Of course, Refused also said in its final communiqué after the initial breakup that "We will never play together again and we will never try to glorify or celebrate what was." The Bronx opens. Edmonton Event Centre, 7 pm, $33.50.