FRINGE HOLDOVERS: The people, and the critics, have spoken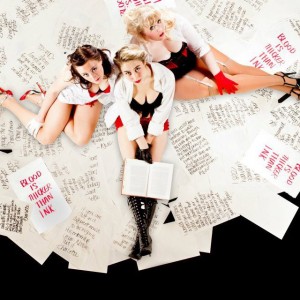 Want to see that great Fringe play that got five stars in all the papers, but found it's all SOLD OUT?
They hate it when that happens – which is why we have the annual Fringe Holdovers, the Fringe After the Fringe, starting next week at the Westbury Theatre (Venue 1, Arts Barns) and at the Holy Trinity Anglican Church (Venue 33). Tickets are on sale now at the Fringe box office, 780.409.1910.
Here are seven of the Fringe's most popular and critically praised shows:
A BRONTE BURLESQUE (above)
APOCALYPSE: A PERIOD PIECE
FOOLS FOR LOVE
LOON
MEDICINE
REEFER MADNESS
THE LAST MAN ON EARTH
And some of the best BYOV shows:
GOING TO ST. IVES
PROGRESSIVE POLYGAMISTS
THE MINOR KEYS
VON MITTERBRINK'S SECOND
And finally, the Varscona Theatre – which basically programs its own Fringe Within the Fringe – is holding over Stewart Lemoine's new play ANGELS ON HORSEBACK. Tickets available here.