MEET THE FRINGE CRITICS: Opinion and perspective needed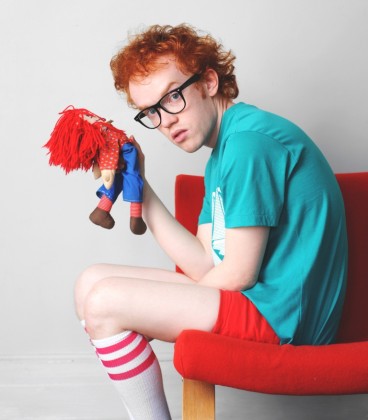 The army of Fringe theatre critics – more than 65 in all – have by now seen and reviewed just about all of the 215 plays at Village of the Fringed. Each review comes with a star rating to aid the bewildered theatrical consumer in making the difficult choice of what to see on the last weekend of one of the world's biggest theatre festivals. Two hundred and fifteen!
You're welcome. Oh, that's OK. We're used to not being thanked. Just offering a public service. Life Inside the Critics Studio isn't easy, you know. Now, finally, after all that hard work, we know what's great: the plays aggregating the highest ratings this year (going only with the local print media for old time's sake: Edmonton Sun, Edmonton Journal and Vue magazine) include:
Red Headed Stepchild (with Johnnie Walker, above) – One-man coming-of-age show
Angels on Horseback – New Stewart Lemoine comedy
Afterlives – Physical theatre explores live after death
Vernus says SURPRISE – Wordless man show about an old man struggling with the modern world
Gordon's Big Bald Head – Improv show brings local ringers back together
All of the above SOLD OUT for the rest of the Fringe, by the way (holdovers start next week). Coincidence? Of course not. Fringe critics can have a profound effect on a Fringe play's success, or failure.
There are far too many Fringe gems to list, not all are sold out, and the ratings are by no means unanimous. Fringe critics come from a wide variety of generations, backgrounds and experience, but they all seem to love theatre, know how to write and do their best to be objective. Most of them, anyway. As Edmonton Journal arts writer Elizabeth Withey puts it, "To be a critic you not only need opinion, you need perspective."
So who exactly are these Fringe critics and who gives them the right to hold such power over the Fringe?
Let's meet some:
Colin Maclean, Edmonton Sun (and CBC legend)
Q: How many Fringes have you covered?
A: Since the very first, 31, my goodness.
Q: What are your qualifications to be a Fringe critic?
A: I've been a theatre fan all my life, right from the beginning. Went to Ryerson and studied it, and it's been a passion. I was doing the morning show at CBC back in the '60s and the theatre critic didn't show up and the producer said, 'you were there, why don't you do a review?' I said, I'm not a reviewer. I'm a CBC announcer. We're not allowed to have opinions. But I did one, and the producer said, 'oh!' I've been a critic ever since.
Q: What's the best thing you've seen this year?
A: "Dying Hard," a story about Newfoundland miners in the '50s. They came down with cancer and arthritis and they died one after another. The company didn't care, the government didn't care, and they were by themselves. And the thing that keeps it from being miserable is that they're Newfoundlanders! Newfoundlanders can always make you laugh. They're not telling jokes, they're just naturally funny people – and it comes through in the play.
Q: What's the hardest thing about being a Fringe critic?
A: It's easy to do the good ones, but you sweat the bad ones, particularly when you know most of the people in the show. That's why I don't hang out with them between shows. You don't want to get too close. You want your critical faculties honed. It's tough. I've had people come up to me and say, 'Colin, I thought you were my friend.' … although I still have very close friends I've slammed over and over again.
Liz Nichols, theatre writer, Edmonton Journal
How many Fringes: All but one, so 30 years.
Qualifications: Experience, I suppose. I've been with the Journal for three decades. My first assignment as theatre reviewer [after earning a Master's degree in theatre studies at the U of A] was covering the Fringe festival.
Best play seen: Afterlives – it's a dance theatre triptych from a company that is very good with words, but has decided to dispense with them for this experiment. It's wonderful, beautiful, sharp, well-executed, smart.
Hardest thing: To think fast and experience the play, to not be programmed too much by your preconceptions, to experience it as a live event, in the moment.
Anna Borowiecki, entertainment writer, St. Albert Gazette
How many Fringes: 4 or 5
Qualifications: I studied drama at the U of A, I worked behind the scenes at Walterdale, I have seen tons of shows, both in New York and here. Being a critic is a lot of hard work, a lot of fun, and you're always trying to be careful to strike a good balance, and I guess for me the fun in seeing what people's imaginations are able to come up with.
Best play seen: ALETHEIA – lot of one person shows reach a point where you can see the artist struggling, but this just seems completely natural. Everything seems to come straight from the heart. She doesn't just adopt a character, she laughs, she cries, it's amazing. I was really swept up in it.
Hardest thing: When I see show I think is awful and yet I want to find something positive about it.
Catherine Griwkowsky, reporter, Edmonton Sun
How many Fringes: Too many to count.
Qualifications: I was in drama in high school? Other than that, I don't think I'm really qualified. Will work for money, will work for food, will work for free tickets …
Best play seen: It was performance poetry called "Divide." I think the way it was presented was pretty original and it summed up the feelings of a generation – mine.
Most difficult thing about being a Fringe critic: Having to actually give a fair shake to something that I really would've walked out on, and trying to come up with enough words to describe something that can be summed up with "crap."
Fish Griwkowsky, arts writer, Edmonton Journal
Number of Fringes: 15
Qualifications: The same as anybody – nothing. I guess there might be some experience there. It's this Englishmen in New York thing. We're all just kind of stumbling around in the dark here. Not all of us.
Best: Probably a tie: "Reefer Madness" is fantastic. I never read about the plays before I go on, I just want to be surprised, but this kills … the other thing is "Super 8," a rom-com, quirky, two normal people meet at Super 8 motel, they each have secrets and fall in love. It's the perfect date play.
Hardest thing: The grind. You're working at least 12 hour shifts, and you'll be doing that for a week.
Todd James, Global TV/K-97
How may Fringes: Second year with Global, did my first Fringe for K-97 – when I was there the first time – 20 years ago.
Qualifications: I think you just have a show up and watch a lot plays. I used to have a theatre background, I used to be a bit of an ACTOR myself [his emphasis], back in the day, and I guess that gives me a little bit of a qualification, and I see a lot of plays throughout the year. I don't just show up at the Fringe to see plays.
Best play seen: Last Man on Earth. I'm a big fan of silent movies and this is a silent play. It stuck with me. I verklempt a few times. I had some strong feelings. I perhaps was weeping a little bit of man tears.
Hardest thing: There's so many plays that are out there, 200 plus. You see five or six plays a day and you have to be really quick in getting your thoughts down and moving onto the next one, and not having the play you just saw colour the play you're about to see.
Paul J. Blinov, arts writer, Vue magazine
How many Fringes: Six.
Qualifications: I'm a theatre critic throughout the rest of the year and just enjoy the form in general, I enjoy art in general. I find the reason I do this generally is whenever I see something I truly enjoy, whether it's a play or improv or a dance piece, I have a gut reaction I enjoy talking about. Writing about it is a good way to unpack how I feel about something.
Best play seen: I feel there's one being overlooked that should get more credit than it's getting: Underbelly, which is at La Cite, done by the fellow that did Giant Invisible Robot. He's channelling William S. Burroughs in a series of monologues.
Hardest thing: Writing bad reviews when you know someone's going to read them and feel terrible. It's never what you set out to do, but I just have to write honestly about what I saw.
More Fringe Coverage:
The Unwritten (until now) Rules of the Fringe