GOTYE: Just some song that we used to know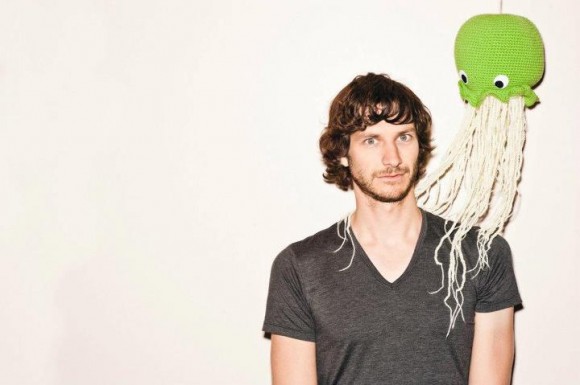 Once in a great while the pop music mainstream brings up something truly great, an artist with talent, integrity and intelligence who has worked hard, poured heart and soul, blood, sweat and tears into their work – and with some luck, perhaps divine intervention, come up with a song that defines an entire generation.
And then ruins it for everybody …
There have been a number of music people in Edmonton who declare they won't be caught dead at Gotye's concert Tuesday at the Shaw Conference Centre. Strangely, many of these are the same people who were gushing over "Somebody That I Used To Know" when it first buzzed onto North American shores at the dawn of 2012, just eight short months ago. Facebook and Twitter friends instantly spread the same basic message: "You HAVE to hear this song (laugh out loud, sideways smiley face …)!" And we did – hundreds and hundreds of times.
And now, oh, how the tide has turned. To quote one local journalist: "If I hear that song one more time I'm going to scream." This, of course, is known as the Nirvana Conundrum, the phenomenon whereby a piece of great music suddenly starts to suck in direct proportion to the number of people who think it's great, multiplied by the number of times you hear it whether you want to or not. Apply it to any band you wish: "XXX was cool before they sold out to the mainstream" – even when you're talking about the SAME piece of music before it was famous.
Like a previous generation-defining anthem "Smells Like Teen Spirit" more than 20 years ago, "Somebody That I Used to Know" is the perfect marriage of art and marketing. The Belgian-Australian artist – real name: Wouter De Backer – had just released the song as the second single from his third album, Making Mirrors. It blew up Australia in the summer of 2011 and spread around the world like the catchy virus it was. Aggressive cross-format radio promotion helped: The song was No. 1 at both modern rock and top-40 stations around the world. The inferior remix (they're all inferior) even became a big hit.
It wasn't hard to hear why. "Somebody That I Used To Know" captivated almost anyone who heard it. We were touched by this realistic tale of a young couple's breakup, rendered with sultry groove, gorgeous melody and haunting vocals that evoked Peter Gabriel or Sting. What really makes it work is Gotye's partner, New Zealand singer Kimbra. It's a duet of heartbreak. Their performance together is elegant drama: She angry and sad, he full of hurt feelings and resignation, both with heavy hearts, regrets, and perhaps the most painful feeling of all: having love turn into indifference – which is the true opposite of love, not hate.
A lot of people have been there lately, it seems. Gotye sings, "You didn't have to cut me off, make out like it never happened and that we were nothing." Kimbra's response is cold: "You said that you could let it go, and I wouldn't catch you hung up on somebody that you used to know." Ouch.
Like Adele's "Someone Like You," the song connected with fans on a number of levels, especially resonating with the notion that human relationships have become colder and more impersonal in the Age of the Internet. Many of Gotye's fans are old enough to have never known a time when the Internet didn't exist. When you can un-follow or de-friend someone with an indifferent click, there are a lot of people getting cut off, a lot of people that we used to know, a lot of alienation.
At this point, a list of impressive numbers might be called for – all the No. 1s, the downloads, YouTube hits, cover versions, etc. etc. – to illustrate how quickly Gotye became a world-wide star, how quickly this great song went viral, and how as a result of its ridiculous media oversaturation he's become the biggest one-hit wonder of the 2000s before anyone even knew who he was or heard a single other piece of his music.
Concerts by bands made suddenly famous by a single song can be awkward experiences, a whirl of fear, anticipation and inflated expectations. If it wasn't for the Big Hit, you probably wouldn't have paid good money to see the band in the first place. You sit through unfamiliar music, naturally comparing it to the Big Hit and more often than not winding up disappointed. But you dare not even go for a pee in case you miss it. Will they do it first? Will they save it for the encore? Will they musically mutilate it beyond recognition? Will they piss everyone off and not do it at all? Of course not. They'd get killed.
Artists often have a conflicted relationship with their Big Hits, like the albatross around the neck of the Ancient Mariner. The modern pop music mainstream eats its young, helps create many of these Instant One-Hit Wonders, turning their songs into Frankenstein monsters broken out of the control of their creators, but it's been happening for a long time. Nirvana's Kurt Cobain had mixed feelings about "Smells Like Teen Spirit." "American Pie" writer Don McLean for a time refused to play the song that made him famous. Deep Purple's Ian Gillan anthropomorphized "Smoke on the Water," saying in one interview that the song had become "uppity" and had to be put in its place, but has since made peace with it and plays it proudly every night. And John "Missing You" Waite took great umbrage at the mere suggestion that he might, just possibly, be a one hit wonder.
It's a cruel irony that some of the same people who loved Gotye when they first heard him are living out the song: Cut him off, make out like it never happened, never listen to the Big Hit again and admit to be glad it's over. After all, it's just a Song That We Used to Know.