FOOD: Brooklyn Tomato neither Brooklyn nor tomato – just great Vietnamese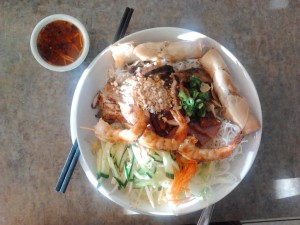 Not since Le Charles Mansion has a Vietnamese restaurant been so woefully named. I really meant to ask the server at Brooklyn Tomato (8205 83 Street, 780.756.6688) what that borough and that fruit-vegetable had to do with pho or bun or cha gio.
Then I got distracted by the huge bowl of food they put in front of me.
The last time I looked, Brooklyn Tomato – located on a hard-to-maneuver stretch of 83 Street directly across from opulent Bonnie Doon Mall – was called "Mmmm… Pho!," a more wittily named noodle house of middling quality. Brooklyn Tomato doesn't feel that much different aesthetically in that you still feel like you're in a surpassingly spacious and clean worksite trailer. Small Asian blandishments liven things up a bit, but mostly it's a cash register, tables and drink fridge.
The thing that I learned from eating in Vietnam is that the setting matters very little. You can get quite acceptable food from a portable soup tureen on a sidewalk flanked by seating generally used for children's tea parties, or a train station kiosk, or on a train, or one of a thousand charmless concrete nooks along the alleys of Hanoi's old quarter. Brooklyn Tomato was miles above them, comfort- and cleanliness-wise.
My co-eater and I both noticed that the noodle bowls came in a little pricier than the average noodle joint – $12.45 for a five-colour vermicelli, where the going rate is usually under $10. No matter, we remarked, but I felt a tingle of dread in anticipation of a city-wide price creep on the greatest fast food ever invented.
It was just a few short minutes, during which my co-eater reckoned with a glass of piping hot lemonade (with ice), before our meals arrived. The servings were massive. I guess if you think about a bowl of rice vermicelli that's big enough to accommodate grilled pork, pork sausage, chicken, shrimp, beef and two spring rolls – not to mention matchsticks of carrot and cucumber, lettuce, fresh herbs, sprouts and green onions – pretty much has to be on the hefty side.
I eat a lot of vermicelli, which is to say I usually eat all of it when I order it, but I had to give up most of the way through Brooklyn Tomato's five-colour vermicelli. It's not that it wasn't delicious, nor that I was not famished, because I was. I was downright unsightly slurping back skeins of noodles tangled with orts of garlicky, lemongrass-imbued grilled meat and plump, sweet-spicy shrimp, splashing crispy segments of spring roll with fish sauce spiked with chilies. If not great at naming restaurants, the Brooklyn Tomato folks clearly knew their way around a Vietnamese kitchen.
Next thing I knew, I was stuffed. I had to stop. My co-eater expressed a desire to go lie down somewhere. We were sated-plus.
A good strategy going might have been to split the five-colour vermicelli and round out the meal with shared soup or delicious appetizers (mango salad, salad rolls, green onion cakes, wings). No matter, though. If the opportunity arises, I will certainly give Brooklyn Tomato another shot at packing me to the gunnels in novel ways.