EDMONTON RADIO: Peter Brown is the smart one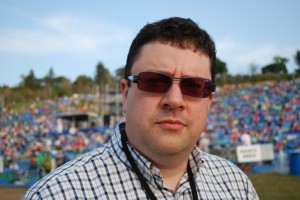 Peter Brown just missed out on becoming an actor when he realized "I wasn't talented enough to make it fast and I didn't love it enough to be a waiter and make it slow."
So then he fell back on narrowly avoiding a PhD from Cambridge University, deked around the opportunity to work for the BBC, talked his way out of a regular gig on a children's television show in Saskatoon and has escaped the budget axe at CBC at least three times.
And that's how Peter Brown remained the beloved host of the CBC Radio One's afternoon show Radio Active – where he is debatably the smartest radio guy in town. Don't argue. Debate. That's what smart people do.
Of course, wouldn't you know it, just when Brown finally gets the chance to sit down and talk about a remarkable local broadcasting career seemingly created from close calls, dodged bullets and full circles, he's moved on – AGAIN. By the time you read this, Brown will have left Radio Active to become the permanent producer of The Irrelevant Show, its third season of live-to-tape sketch comedy to be heard Saturday mornings starting in January across Canada on CBC Radio One. Brown's last job with Radio Active was at the Edmonton Folk Music Festival, a tearful goodbye with a band called Monkeyjunk – where GigCity finally caught up to him after about five months of attempted interview scheduling that felt like a treaty negotiation.
"The people I like on the radio, you don't hear them broadcasting, you hear them talking," Brown says, on the art of being a radio entertainer. "I've certainly felt like I can express my full personality – except for the obscenities."
He unwittingly – if such a thing is possible – sums up his raison d'etre (raisin for existence) by saying that while other radio people can be goofy and dumb, he tends more towards "goofy and smart."
As the official voice of CBC Radio every afternoon, Brown pulled some goofy stunts in his time. When the city asked public input on renovating the Walterdale bridge, Brown went before council to propose a loop-de-loop, and in This Hour Has 22 Minutes spirit, the Mayor played along and asked hard questions.
Mayor: "What do you think the province is going to say about this?"
Brown: "I have no doubt they would fully fund this."
The Telus World of Science got involved in the tomfoolery and figured out of the science of actually building a loop-de-loop bridge, and how one would have to have an entry speed of at least 110 km/h. And so, in one deft swoop, Brown and the CBC poked the government on at least two levels, skewered the debatably silly idea of the city asking for public input on anything, while educating and informing said public at the same time.
So it's not on the level of The Bear's "Shave Your Ballsack to Win Your Own Dominatrix" contest, but this the CBC, remember.
"In the universe of radio, in the universe of morning zoos and the afternoon crew and Mikey and the Booger, in that universe, Radio Active is serious. In the CBC, it's pretty light hearted," Brown says.
He's big part of the reason.
CBC holds a strange place in the local radio zeitgeist. It's like some government institution – which of course it is: They've been around forever, you don't know quite what they're doing, where they are or where they're coming from, but you still assume that they know more than you do.
CBC occupies four spots on the area FM dial – 90.1 (Espace Musique Alberta), 90.9 (CBC Radio 2), 93.9 (CBC Radio One) and 101.9 (Première Chaîne) – plus two AM stations, plus God knows how many Internet and satellite channels. Programming is extensive and intelligent, more than most commercial stations could do given budgets constricted by ad dollars. But even despite the government cutbacks, CBC Radio still give its listeners lots of substance – and balanced news, too, despite what Sun Media would have you believe.
"I have been in thousands of story meetings, and I have yet to see the bias that everybody complains about," Brown says. "If anything, the people at the CBC are so concerned about looking biased that they bend over backwards."
So for our hard-earned taxpayer's dollars, we get plenty of smart talk, smart music, and great gusts of airtime devoted to intelligent exploration of any serious or goofy topic you'd care to imagine. If average commuters are looking for something, anything, to listen to as they're stuck on the Yellowhead, they may light upon CBC and feel as though they've fallen asleep in English class – and woke up in another dimension.
Random recent sample: An interview with a woman talking about adults who are My Little Pony enthusiasts, and the exploration of a new societal paradigm in which people stop, or forget, being ironic about whatever goofy thing they claim to be into. It's a new trend: "Neo-sincerity."
Whoa, too smart.
Remember, that's just a random sample. There is much, much more where that came from.
Irrelevant relevance
Peter Brown is a perfect fit for the CBC, and vice versa, to the point where you could even argue – sorry, debate – that he has even helped develop the CBC's brand in Edmonton. Moving to the national stage with The Irrelevant Show – which he's been producing for the last two years while juggling his radio show (temps were hired while he was away) – is going to be part of a full time gig, with Brown developing "other projects" during the off season.
"I love going back and forth," he says on leaving Radio Active, "but at some point it needs to go one way or another for the station and the listeners."
Brown oversees all the aspects of The Irrelevant Show – from the writing to the music – which stars, among others, Edmonton performers Mark Meer, Marianne Copithorne, Jana O'Connor, Donovan Workun and head writer Neil Grahn. Brown even gets to be in the show himself – because "I'm the only guy who can do a good Stuart McLean impression," and proceeds to demonstrate with eerie precision. It's all about raising your pitch, pausing before nouns and keeping about "10 per cent Jimmy Stewart" in your voice, Brown says.
Of all the things he could've done but didn't that led to this point, Brown jokes, "I have a great future behind me," but his eclectic experiences are serving him well.
Brown's dad was an academic, too, and they moved around a fair bit, settling in Saskatoon, where the Ann Arbour, Michigan-born Brown became one of the "drama kids" at high school, and after graduating summa cum laude (smart-speak for really smart) from the University of Saskatchewan, he won a scholarship to the University in Cambridge in England. It was there, after writing, producing and starring in a comedy show at the Edinburgh Fringe Festival and discovering that maybe he loved acting after all, that Brown's future hung in the balance.
Somewhere in there, the BBC came calling.
"Good luck trying to reverse engineer the decision you made on that," Brown says. "I had interest from a BBC producer to go pitch some ideas in a writer's room, and I thought at the time, this is bullshit, I'm not pitching on spec! I know now: The BBC wants you in the room! Spend an hour! Maybe something will happen!"
Anyway, he said no, he's since kicked himself enough times, and the BBC's loss is the CBC's gain. Show biz opportunities beckoned back in Canada, too. Faced with the dilemma between wanting to finish his doctorate in 17th Century British drama and going back to Canada to work in TV, Brown took advice from his thesis tutor, whose office was located in Pembroke College – where British comedy great Peter Cook once studied.
Brown recalls, "I said, well, I have a choice, I could finish my thesis, or I have an opportunity to do some television, some comedy in Canada, and here he sat in his book-lined study, sipping sherry, in Cambridge, as the absolute top of the academic heap, and he said, 'that sounds great!'"
It was all the almost-Dr. Brown needed, though he already knew deep down that he wasn't going to use his PhD, "So it became, literally, academic."
News in his blood
One of Brown's first gigs back in Saskatoon was as a reporter character named "Nick Scoopaducci" on the kids TV show "Switchback," a guest spot that turned permanent when he came up with a way to get all the kids shout "Scoop!" whenever they saw him. Big hit. Two years later, Brown talked his way into a theatre critic's job for CBC Regina, and by 1994, he'd landed in Edmonton – where he declares he intends to stay no matter what happens. Brown heaps praise on both the gifted people he gets to work with and the great local arts scene that nurtured them.
"I could do without November," he says, "but I guess that's the tax you have to pay."
You'd think with a resume like this that Brown would consider himself an extrovert, but he doesn't think so. He cites some study that measured personality, where a "shockingly high" number of radio people turned out to be introverts. While Brown himself didn't take the test, "I can guarantee you I would be an introvert."
Evidence is piling up that introversion is an asset in the radio world.
"It means you don't get your energy from being in a crowd of people, you get your energy in processing things for yourself," Brown explains. "I've done a bit of TV and wherever I see myself on camera I always think, wow, either I look rough or my dad looks great. On radio, the only things people are judging you on are what you say and how you say it. It's not 'what's with that guy's hair?' It's who you think you are that you're being judged on, the self that you create."
He goes on, "Radio is where you have the time to speak as yourself and develop your ideas. The other thing for me, for comedy sketches, is that radio has an infinite budget. You want to be in a spaceship that crashes on Mars? We can record that. You want to be a 16-foot tall man with three heads? We can do that on radio. It's a medium that rewards creative imagination."