SONIC BOOM 2012: Buzz bands, alt metal and modern rock goodness
This year's version of Sonic Boom is probably the deepest line-up that's been put together for the day-long festival yet. Thanks to a "sister" event in Calgary the day before Edmonton's show at Northlands on Sunday, Sept. 2, Sonic Boom 2012 has at least two acts that could've been headliners, with Linkin Park and Silversun Pickups, along with lots of solid modern rock goodness throughout the day. It all starts at 11:30 a.m. with …
Zerbin
If there's such a thing as a "buzz band" in Edmonton, this act may be it. Zerbin (right) was named a Sonic 102.9 artist of the month earlier in the year on the basis of its single "New Earth," and then won two Edmonton Music Awards for the track in April. They're energetic and put on a good live show, combining rock riffs with a more sensitive folk aesthetic, especially in their lyrics, and also an orchestral vibe not unlike the Arcade Fire.
The Pack A.D.
Definitely a favorite amongst the music fans here in Edmonton for good reason, this hard-hitting crunchabilly duo (crunch plus rockabilly) features two incredibly talented females in drummer Maya Miller and guitarist/vocalist Becky Black. The first track off their most recent album, "Sirens," hit No. 3 on the Canadian alternative charts.
L.P.
This New York artist now living in Los Angeles has been favorably compared to such other stellar female musicians as Florence and the Machine and Janis Joplin.
Mutemath
This eclectic New Orleans act hasn't played here in Edmonton since the Dinwoodie in 2007. The band has since released a trio of albums, including two ("Armistice" and "Odd Soul")
Fun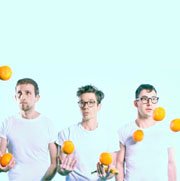 Another New York band (right), these indie popsters have been around since 2008, but it wasn't until the last year that they really took off, thanks to the smash hit single "We Are Young" (featuring Janelle Monae).
Joy Formidable
This band probably came away from last year's Sonic Boom with more acclaim than any band on the bill. They're coming back for a return visit, and not soon enough for many fans. "Whirring" was an incredibly popular single on Sonic radio for a lengthy run last year; the band's more recent singles "A Heavy Abacus" and "Cradle" are just as sensational. Ritzy Bryan will blow your mind with not only her vocal capabilities, but her guitar-work at the same time.
Young the Giant
Another buzz band from the last year, this California band formed in 2004 and didn't get around to releasing its eponymous debut album until 2010. The jangly, driving single "My Body" caught the attention of the entire music media-sphere in 2011, and went on to become certified platinum here in Canada. "Cough Syrup" also reached the top 10 on Canadian alt-rock charts.
Silversun Pickups
This year's release of "Neck Of the Woods" spawned the single  "Bloody Mary (Nerve Endings)," another modern rock hit receiving seemingly non-stop airplay this summer. There's more where that came from. You should really check out the band's debut album "Carnavas" from 2006, which also had a number of tracks that you may remember, not the least of which were "Melatonin," "Lazy Eye" and "Common Reactor."
Incubus
Perhaps best known for tracks like "Anna-Molly" from the album "Light Grenades," and "Megalomaniac" from "A Crow Left of the Murder," this alt-metal band has 11 albums to its credit. It so happens that Incubus has been touring for much of the summer with …
Linkin Park
Founded in 1996 as a nu-metal band by three high school friends, this band released two albums in the early 2000's, before taking a bit of a break and then re-launching as a more straight-ahead alternative rock act. The band's first visit ever to our city will likely feature a selection from throughout its career; early tracks that caught the attention of fans include "Somewhere I Belong", "Numb," and "Breaking the Habit". More recent songs you may be familiar with include "Waiting For the End" and this year's "Burn It Down."
Tickets
$105, $165 for VIP, on sale here.