ART: Nothing happens by accident in Catherine Burgess sculptures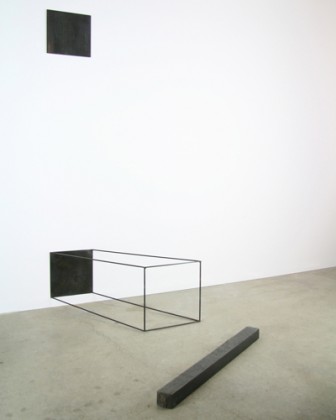 Abstract metal sculpture leaves a lot of people cold – pun intended. But there's a lot to be discovered and enjoyed if you don't have to ask the classic "But what does it mean?" question, or need to identify a recognizable object in the work.
Catherine Burgess's "Absence|Presence" installation is up at the Art Gallery of Alberta (AGA) until mid-October, and judging from the traffic on a Servus Credit Union's monthly "freebie Thursday," most people fell into the "left cold" category. (Those nights at the gallery are fun, because in addition to viewing the shows, the place is busy with a good cross-section of viewers, ideal for gauging peoples' reactions.)
With Burgess' show, they filed through the small gallery with its half dozen works relatively quickly. Some stopped to read the artist's statement, but most took a turn around the room -wandering among the works on the floor and the walls – and left.
Their viewing visits were brief and one suspects that they didn't get a lot out of an exhibition by one of Edmonton's most-respected sculptors of the past three decades. You could almost see them shrug their shoulders. Too bad, because Burgess is taken seriously enough to be in a couple dozen public collections across the country, and she not only shows nationally, but in the U.S. and England.
How to appreciate the abstract work of artists such as Burgess? Jazz comes to mind, but for a lot of people, jazz – even though there are rhythms, melodies, arrangements – has forms that aren't always readily discernible and can be "difficult."
Maybe use an Alberta-made entry point a place to appreciate this Albertan's art. Admiring the big Prairie skies is a common experience: sheets of wispy mare's tails, big thunderheads roiling white through blue to black, and sensational sunsets. But do we stand back and talk about how we saw a duck or a horse in a cumulus bank? No, we simply appreciate them for the variety of shapes and textures and colours.
Why not apply the same principals to art?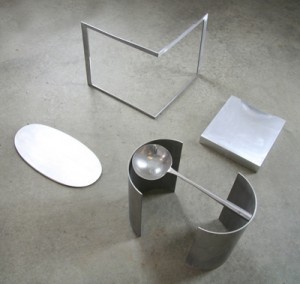 One of Burgess's works, "Compass" (right), is a set of four components arranged on the floor as "corners'" of a rough box. Two pairs of shapes are represented: the oval and the square. One of the oval pieces is a thin, flat sheet of whitish material (probably aluminum), while the other is comprised of two curved steel sheets on edge that support a polished silver spoon suspended between them (somewhat like a compass needle). The other pair of squares features a flat sheet (but this time of steel) proportional to the oval sheet; the counterpart to the "compass needle" oval is 'half a box' represented by two sides of a line drawing of a box, constructed of square metal rods.
Once the overall structure is identified, subtleties become apparent. The four elements and their relationships to one another are key. At the same time, the colours and textures and surfaces are also important; both sheet objects are not entirely symmetrical, or smooth. Burgess has ground into them to break up the edges and the surfaces. In fact, the textures and the colours of all the metals vary, like the space in which she places them.
But, unlike cloud formations, nothing occurs by accident. And while the assembly of objects may appear simple at first glance, there are other aspects to "Compass," and the work begs closer examination. The same is true for the other works in the show.
Burgess puts a lot of thought into her sculptures. She has her own meanings that she considers when she creates them, and we're welcome to interpreting them for ourselves. They are simple and complex at the same time and the pleasure we derive from them is in exploring – like clouds in the sky.