Kaleido festival to transform Alberta Avenue into Fringe of the North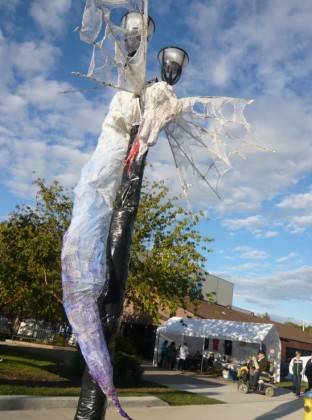 Look up. Look wa-a-a-ay up. Just try not to walk into a lamppost as you are serenaded by live music being played from the rooftops along Alberta Avenue during the Kaleido Family Arts Festival.
And that's just one treat in a cornucopia of artistic endeavours for both enjoyment and participation, running all weekend in and around nine different venues along 118th (Alberta) Avenue between 90 and 94 Streets and nearby back alleys. Admission is free. Donations are accepted.
This giant North side street party was born out of a living room conversation in the home of artistic director Christy Morin some seven years ago. She and a half-dozen Alberta Avenue residents – many of them artists – were talking about what a great, but underrated, neighbourhood they lived in.
"We knew this neighbourhood is a beautiful place, but people just didn't know it," Morin recalls. "We thought, why don't we let Edmonton know? So we created Kaleido seven years ago on the Thanksgiving long weekend. It was a magical weekend."
From first year attendance of 800, Kaleido, like Alberta Avenue, has grown. Last year, there was even more magic as about 20,000 people enjoyed more than 200 musical, dance, theatrical and visual arts presentations.
While there are main venues for the headline shows, the Avenue itself is the real attraction. Its rooftops, building facades, coffee houses, lampposts, alleyways and playgrounds are all pressed into artistic service.
"The beauty of Kaleido is that we use the Avenue and the environment to create as artists," Morin says. "Artists love to take a gritty back alley and turn it into a great musical space. It's a very creative framework for artists to design and create. We have an open idea concept of bring what you like and we'll see if it can fit."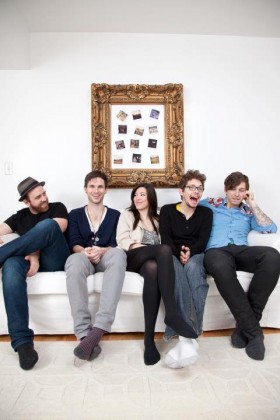 Among the highlights of the weekend will be a performance from Juno-winning Vancouver band Said the Whale (right) on Friday night at 10 p.m., and the Saturday night "triple header" featuring Montreal aerial acrobats Kalabanté, Vancouver's The Boom Booms, and Edmonton's reggae mainstay Souljah Fyah.
The fest begins with the No Tie Gala Stroll & Street Party on Friday, Sept. 7 from 8-10 p.m. at four indoor venues: The Nina Haggerty Centre for the Arts, the Avenue Theatre Lobby, the Bernard Boisvert Gallery, and the Carrot Community Coffeehouse.  There will also be an outdoor screening of the Disney film "Tangled," the aurora lantern parade, a one-man play by Chris Craddock, and a screening of "The Avenue," a documentary by Jaimie Clements.
Saturday kicks off with a free pancake breakfast 10 a.m. to noon, with the opening ceremonies at 11:30 a.m. launching a full day of music and dance performances on The Avenue Central Stage.
New to the festival this year is the Hip Hop K-FAC Tent, bike-powered by the nonprofit society Music Is a Weapon.
And as always, it's all free — or as Morin likes to call it, "pay what you can."
"We're asking people to be generous," she says.
Everything you need to know about Kaleido — times, date, venues, parking — can be found here.