Magazine on mission to mount monument to Melonville
We may drive down Mark Messier Trail, meet at the Wayne Gretzky statue and pause beside the Rollie Miles mural – so maybe it's time we erected a Monument to Melonville.
That's what Avenue magazine is after in its determined campaign to pay sculptural tribute to the great Canadian comedy series SCTV, which has its roots in Edmonton. As the next step in a plan that started in January with the magazine's online petition, the gala fund-raiser happens Thursday at the Garneau Theatre, featuring highlight reels from the "Melonville" years and stories from back in the day. UPDATE Sept. 4: SCTV star Joe Flaherty was scheduled to attend, but had to bow out due to illness.
Avenue editor Steven Sandor says, "I think Edmonton does a really wonderful job celebrating its sports heroes, but we can celebrate the city's part in pop culture, too." Other cities can do it, he adds – St. Paul, Minnesota has statues of Peanuts characters, since it was cartoonist Charles M. Schulz's hometown – so why not Edmonton? Of course we have the Big Miller statue, honouring the local jazz legend near the Yardbird Suite (which happens to be located on Tommy Banks Way), and the Brian Paisley neighbourhood (honouring the founder of the Fringe festival), but SCTV was a huge deal, too. There's no trace of it save for dusty posters.
"I think a lot of people forget the show was internationally broadcast, on NBC weekly – and there was Edmonton every week standing in for Melonville," Sandor says.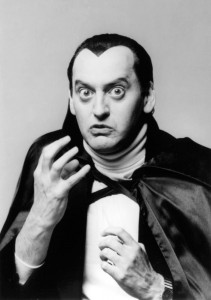 SCTV taped its first two seasons, 1981-83, at the then-ITV-now-Global TV studios, where Flaherty, John Candy, Catherine O'Hara, Eugene Levy, Andrea Martin, Rick Moranis and Dave Thomas came up with many of the favourite characters known around the world. Most of the production crew came from Edmonton.
Sandor says the show might not have become such a pioneer for television sketch comedy had it not been shot here.
"No executive was going to fly to Edmonton from Toronto or Los Angeles to check up on what they were doing," he says. "They were getting away with a lot, and you knew they were getting away with a lot. They were allowed to push the envelope because they were out here."
So what might an SCTV monument look like? Something to do with our favourite hosers Bob and Doug, maybe?
"We would love it to be something interactive," Sandor says, "something people can touch and feel and sit in."
The televisions being thrown out the window in the old opening credits might be a good theme, he adds. They're open for suggestions.
Admission to Avenue's SCTV retrospective and monument fundraiser is $25, including two free drinks and food. Reception starts at 6 p.m.
Read more: Joe Flaherty interview from Oct. 2011