RUMOUR MILL: Paul McCartney to play Edmonton this fall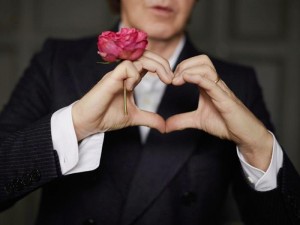 The last time they made such a big deal about a simple concert announcement, it was the Rolling Stones. This time, it's probably Paul McCartney.
Anticipation is high for the announcement of a "major historical concert event" this Friday at 11 a.m. – by the Mayor Himself, no less. It's "scheduled for Rexall Place this fall," the press release reads, offering no further details.
The case for is strong: McCartney ended a spate of dates on his "On the Run" tour in New York in July, and has been teasing fans with the "stay tuned for upcoming tour dates" message on his website ever since. He has new product to sell, a record of standards called "Kisses on the Bottom." And he's never been to Edmonton before, so that would certainly qualify as historical.
Or maybe it is the Rolling Stones, a major band that has been here before – twice. Rumours have been swirling over their expected tour announcement, too, on the heels of a new 50-song collection called GRRR!, in stores mid-November, featuring two new tracks, "Gloom and Doom" and "One Last Shot." Read into those titles what you will. For the Voodoo Lounge Tour back in the mid-'90s Mick Jagger and the boys staged a press conference in New York, and Mick hijacked the mic for the first question, "Is this going to be the Stones last tour?" Lots of laughs all around. Four tours later it's still a valid question. If this was and they came to Edmonton, it's definitely historical.
There just aren't any other credible possibilities. Madonna? Please. Bruce Springsteen has a hole in his schedule that could include Edmonton in mid-November between Denver and Vancouver, so stay tuned for news on that, but the Boss is neither "major" – at least not major enough to get the Mayor in on it – nor historical, as he's been here a number of times. Radiohead is a good bet to include Edmonton on the next leg of it world tour in December or the new year, but same issues apply.
It must be major, historical, concert, and event – and be a big enough event to stage a big deal press conference. Sir Paul is the only guy touring this year that fits.