FILM REVIEW: Your Sister's Sister a rom-com with a difference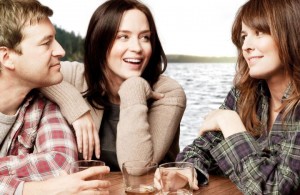 If you like the idea of cast and crew working together to make a film unique in both story and performances, you're not going to find one much better than "Your Sister's Sister," starting at the Metro Cinema this weekend.
It's that ensemble spirit, the honesty and sincerity of the performances, and the refusal of the director-writer Lynn Shelton to go for the easy or sentimental in all the little moments that makes this film special.
The story starts with Jack, who has some problems. His brother, Tom, died a year ago. He's just made a truthful but aggressively embarrassing speech at a memorial party for him. Jack is friends with (but secretly in love with) his brother's ex-girlfriend Iris, who realizes he's struggling and suggests he should take some time off to get himself together at her father's scenic but isolated cabin. When he arrives at the cabin he surprises Iris's sister Hannah, who's there for similar reasons as she's just broken up with her long-time girlfriend. After sharing most of a bottle of Tequila, they end up in bed together. That's when things get complicated.
Call it a romantic comedy, or an example of what New Yorker film critic David Denby defines as "mumblecore" – where young underemployed people talk about their relationships and flirtations with people in their friend groups and possibly wind up in bed together to no entirely defined purpose.
The film, on the other hand, has wonderful definition. Shelton  does a fine job shaping the piece, along with the three main actors: Emily Blunt (Iris), Rosemarie Dewitt (Hannah) and Mark Duplass (Jack). All three are credited as creative consultants in the end credits, so one assumes there was a lot of improvisation and input from them. Blunt – whose films include "The Devil Wears Prada" – lends the film some star power and gives a charming and vulnerable performance as Iris. She has strong support from Dewitt, a veteran of TV's "Mad Men" and "The United States Of Tara." Duplass, who also appeared in Shelton's 2009 film "Humpday," is equally strong. He's also executive producer on the film.
They all work together beautifully. You care about the characters, the relationships, and the emotions because you feel everyone both on and off the screen believes in them, too. It's a fine little drama with laughs, tears, surprises, and truly heart-warming moments. Add a likeable and effective soundtrack by Vince Smith and atmospheric scenic tableau photography by Benjamin Kasulke and you've got charming as well.
"Your Sister's Sister" opens Friday at the Metro, along with "Ai Weiwei: Never Sorry," the 2012 documentary about the Chinese artist and dissident who runs afoul of that country's oppressive government. It might seem an odd pairing, but that film, too, features an unconventional triangular relationship.