TRUE TALES OF THE ROAD: Frew flies free of fear

You wouldn't know it by looking at the career of Glass Tiger singer Alan Frew, but he used to suffer such terrible stage fright that he'd vomit before AND during shows. He'd just duck down behind the Marshall stacks and let heave, then come back to finish the song. Repeat as necessary.
Hell of a thing if you're trying to be a rock star. He actually never planned to be in a band at all. Long story.
Eventually, the Scottish singer went to a doctor – resulting in on stage incident in 1979 that probably would've finished Glass Tiger before it even started. Obviously things worked out. The band plays with Roxette at Rexall Place on Monday, back doing arenas once again.
Frew recalls, "I thought I could solve it by going to my doctor and doing the prescription medication thing instead the street medication thing. So in a typical nightmare, the doctor with a wave of his pen gives me something he says will settle my stomach, but they don't realize that I'm also taking this inhalant to clear my nasal passages. I didn't read the fine print: 'May cause nervousness.' I didn't need that. I already had that. And the two medications together turn out to have this massive interaction – which was like the acid trip from hell."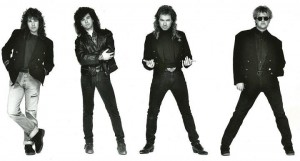 Playing at Queen's University (under the band's original name Tokyo), the gig went off the rails straight away. Frew started to get nervous and complain, "Everyone's looking at me!" His bandmates reassured him that it's the audience and they're supposed to look at him. Two songs in, the singer "bolted" off the stage and into the dressing room, where he locked and barricaded the door. No amount of pounding and shouts to get back up did any good. The "poor band," Frew says, had to mark time by playing "Rocky Mountain Way" and Led Zeppelin songs, and "the whole night just crumbled."
Frew can't remember exactly how they got him out of the room – "I think they either kicked the door in, or maybe a janitor came in through one of the air vents, and I was curled up in a corner. They just left me there." But he does remember the awkward ride home afterwards.
"The rest of the band was just disgusted with me, nobody was speaking to me, and I said I was quitting," Frew says. "I said this has got to end. This stage fear is too much."
As it happened, Glass Tiger had a commitment to do a show the next night, some bar in Northern Ontario – and if not for this gig, Frew says, it wouldn't been over.
"We had one more gig to fulfil – and I did it. And that was the evening that I overcame my fear. I did it by giving myself permission to feel the fear, and to even vomit if need be, and I remember vividly allowing myself to say, oh, fuck it, if I'm going to be sick, be sick and get it over with, and finish the song. So I got on stage, I get my usual butterflies and I feel like I'm going to throw up, and it never happened. I talk about it my book: feeling the fear and doing it anyway. I triumphed over it. If I hadn't been able to do that, I wouldn't even be in rock 'n' roll. I would've had to bail on it."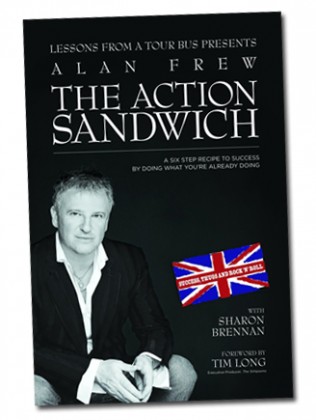 The rest, as they say, is history. Look it up the Internet. Glass Tiger became one of those huge Canadian bands of the '80s, cracking the U.S. market briefly in 1986 with "Don't Forget Me (When I'm Gone)" and hitting the arena circuit – until the '90s came along and put an end to all that, for various reasons. The band broke up in 1993, reformed 10 years later and has been working hard ever since.
Lord knows Frew has since had some stress to deal with. The tremendous responsibility of being a rock star alone can be trying. Just ask a rock star (or look at their substance abuse issues), because very few people who aren't rock stars are going to have much sympathy. Poor rock stars.
Frew's lately been singing for the troops in the Middle East, recording in LA, meeting in Toronto, writings songs in Nashville. He co-wrote for fellow Scot Johnny Reid's latest album, "Fire It Up," and though Reid is more of a blue-eyed soulman than a country singer, this got Frew's foot in the door of the country music industry. He's on a panel at the CCMAs in Saskatoon – where he's also up for an award (awards gala takes place Sunday, Sept. 9) – and he admits he's pretty nervous about being around "real country songwriters."
He goes on, "Within the last four weeks, I've been in Kuwait, Oman, Toronto … I picked up a stomach parasite in Afghanistan, had to go to LA, then did all the rehearsals, started touring. It's a tremendous strain. People ask me how I handle the stress. What I do is integrate stress in my everyday life. I understand it. I don't fight it, I don't argue against it. I just absorb and integrate it and make it part of who I am and what I do."