WCFW: How to build a fashion industry in Edmonton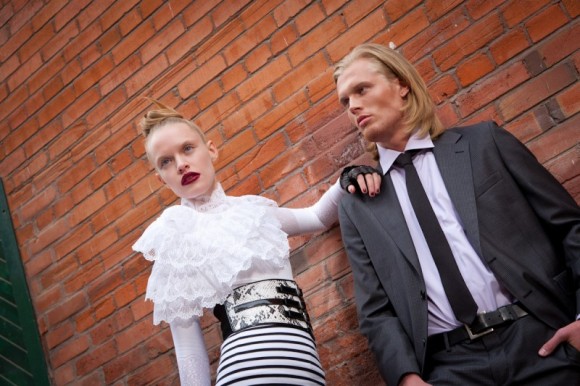 For fashionistas pondering the impending autumn installment of Western Canada Fashion Week, the answer to the question of "Why Edmonton, of all places?" is simple – why not?
No other city in the West has managed to mount a fashion festival that covers Western Canada and survive for eight years. Not Calgary. Not Winnipeg. Edmonton's biannual event is in the third largest of its kind in the country – behind Toronto and Montreal – according to founder and producer Sandra Sing Fernandes.
"We built it," she says. "We built it in eight years, the community built it – just like the theatre community that built the Fringe. It's not just talent. It's everybody involved. I'm not saying we don't have further to go, we're not saying we're New York or Toronto, but we have something very special here."
Western Canada Fashion Week (WCFW) runs Sept. 13-20 at the TransAlta Arts Barns. Events include showcases of clothing designers – both experienced and "emerging" – spotlights on area clothing stores, retail districts, displays of hair styling and fantasy fashion, along with live entertainment, music, dance and theatre. Talent is drawn from across Western Canada and beyond. Fernandes stresses that WCFW isn't just about fashion, is more of a "fusion festival."
That second word is important in this town, she adds.
"We support our arts better than anywhere else," she says. "I really believe Edmontonians have a special pace in our hearts for the arts, you look at the festivals like the Fringe and the Works, we have the best festivals."
Part of the mandate of WCFW is to be an "incubator," she goes on, to help "generate an industry" and nurture emerging talent. Some of them – such as Calgary's Michelle Roberts (Emogene Couture) – have come a long way. For evidence, look at at the Mercedes-Benz Start-up new designer competition taking place at Toronto Fashion Week next month. Of the eight semi-finalists from across Canada, two are from Edmonton: Malorie Urbanovitch and Nicole Campre; and two are from Calgary, Caitlin Power and Lauren Bagliore.
"We are extremely excited to watch our designers who started with us a long time ago," Fernandes says. "Every season they get better … It's amazing to watch the locals grow. In Canada, we're really holding our own – I never would've thought it possible when I came back from New York."
Yes, even she needed to be convinced. After education in Grant MacEwan's dance program, the Edmonton-born producer lived in New York for quite some time, producing fashion shows and working with film and Broadway, before moving back home shortly after 9-11. Starting small, the former Edmonton Fashion Week has grown to attract more than upwards of 3,000 spectators over the eight day event. Calgary has not been so lucky, Fernandes says.
"Unless people come out and support it, you're not going to get anywhere," she says. "To find that fashion audience is a tough thing. We just really work hard 24-7, they have a lot more designers in Calgary than we do, but they didn't have the right personalities to pull it together. It has to encompass all of the West, you have to make the industry, you have to build you own thing and make it real and hope people come."
Tickets to WCFW events are $25 for each night, $85 for the whole thing, advance on sale at the Fringe box office (780.409.1910) or Tix on the Square.
(Top photo: Dustin and Marie, Numa Models; Designer: Rebecka Pichoch, photography by Ernest studio-e.ca for PHABRIK magazine)