WHAT'S SO FUNNY: More swords and sex than usual in Die-Nasty Soap-a-Thon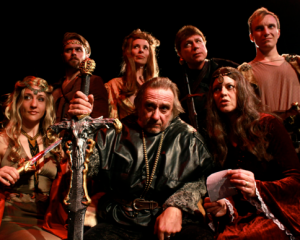 The annual Die-Nasty Soap-a-Thon – running continuously this Friday through Sunday at the Varscona Theatre – has chosen "Game of Thrones" as its theme this year. But don't worry, it shouldn't be any harder to follow than any other 50 hour marathon of improvised comedy.
The inexhaustible Mark Meer – who once again is expected to do the whole thing – says this: "There's likely to be a lot more swords and/or sex than usual."
Ah, you had us at "there's."
Aside from Meer and the usual cast of local favourites, special guests include six performers from Liverpool's Impropriety troupe, plus one of the Die-Nasty originals Patty Stiles, returning to visit from her new home in Australia, where she runs – you guessed it – a comedy improv troupe.
Tickets are $16 for a no re-entry pass, $50 if you wish to come and go, available in advance, or at the door, cash only.
How can we miss you if you don't go away?
Since comic Jon Mick moved to Toronto, he seems to have been getting more work in Edmonton than ever. Funny how that works out.
Mick and his fans have reason to celebrate this Saturday, as he releases his second recording, Beardmilk – yum – with a show at the Garneau Theatre. It's coming out on the mighty Old Ugly Recording Co., and the night will also feature releases from the musical labelmates Field+Stream and Renny Wilson.
Mick says things are swell since he moved, "Career is fun, this summer I got to do a ton of festivals and cool shows – NXNE, Improvaganza, opened for Maria Bamford, Fringe. Back here in Edmonton to work for the winter and save up some cash for my next endeavour."
Tickets to the 6:30 p.m. show are $10 at the door.