REVIEW: Horses upstaged by amazing humans in Cavalia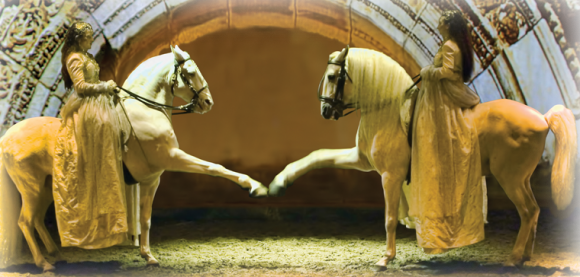 Funny thing about Cavalia, the equine-themed extravaganza now playing under the very big top at the City Centre Airport – it could do with a little less horse play.
"It's ABOUT horses, idiot!" I hear you saying. "Why would you want fewer horses in a show about horses?"
First, there are no two ways about it: Cavalia is extraordinary. Housed in a mammoth 26,000 sq. ft., 10-storey high tent, the show plays out the relationship between man and horse on a panoramic 160-foot wide stage, backed by an ever-changing 200-ft. wide screen, and with live music. Since it debuted in Shawinigan, Que. in 2003, this Cirque du Cheval has been seen around the world, and has spawned a second show, Odysseo (which, at the rate these productions wind their way to Edmonton, should get here sometime around 2023).
There are 48 horses in Cavalia, all of them male (just like human males, they're easier to train) and all of them majestic. It is a rare treat for us city slickers to get a chance to see these powerful beasts up close and personal outside of a racetrack, and judging from the ticket sales and extended run of the show, Edmontonians are jumping at the chance. The run has already been extended twice due to demand, now until Oct. 14.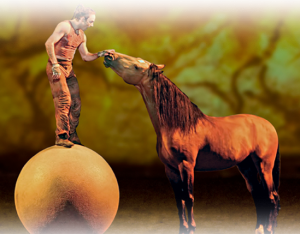 While Cavalia utilizes every high-tech trick in the modern theatrical playbook, its heart is old school. Much of what goes on in Cavalia are simply traditional circus tricks with new age pimping. The trick riding is straight out of what your grandfather might've seen in Buffalo Bill's Wild West Show. This is not to denigrate the abilities of the riders in any way. Standing on the backs of a team of galloping horses takes extraordinary skill, and guts, and it's lots of fun to watch – up to a point.
There are several segments of Cavalia where the horses are perform with exquisite precision. This is quite remarkable and beautiful, for about two minutes. After that, it's just, well, a little boring. Sorry, horse people.
The humans, however, are never boring. They're all ridiculously handsome and/or beautiful, extraordinary athletes with Men's Health-magazine physiques – and that's just the women. They do amazing, eye-popping things, while the horses … well, there's only so much a horse can do. They can't do back flips, they can't walk on their front legs, they can't perform remarkable feats of strength and agility hanging high above the crowd.
Judging from the squeals of delight that came from some audience members at the horsey stuff, I'm probably in the minority here. Cavalia is a thrilling, splendid spectacle, performed with exquisite skill and consummate showmanship – even if there are a few too many horses.