Edmonton Eskimos reality series to premiere on Citytv Sept. 15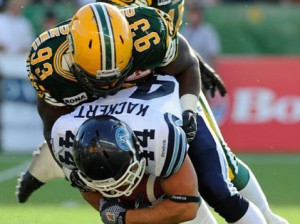 "Hail Mary" is a new reality series following a group of football players trying out for the Edmonton Eskimos – but even if you think a convert is someone who changes religions, the producer says no prior knowledge of football is required.
"One of the key things the broadcaster, Citytv, wanted us to do was attract viewers who are not your typical TSN and Sportsnet type of fan," says Hail Mary's producer David Benson. The veteran Edmonton producer promises the show will appeal to people who "would never turn on a live football game, but are interested in those human interest stories. This is not a show about XXs and OOs. We get into a bit of football, but we don't start talking about their positions and the nuances of what they need to do to get better."
"Hail Mary" premieres Saturday night on Citytv (channel 7) at 10 p.m.
(For the truly football-clueless, the title refers to a long pass thrown in desperation with little chance of success, which also describes the chances of unheralded players finding a spot on the roster of a professional football team.)
Benson says the idea for the show came from a chance encounter between Margaret Mardirossian, executive producer of Anaïd Productions (The Rig, The Quon Dynasty, X-Weighted), and Len Rhodes, president of the Edmonton Eskimos. Mardirossian suggested a series following players as they attempted to make the Eskimos, and Rhodes bought in. After securing a broadcaster (Rogers and Citytv), Benson was chosen to helm the production based on his years of experience in TV broadcasts of the CFL, and as an independent producer.
The series begins at Eskimo open tryout camps – consisting of invitees and guys who just walked in off the street thinking they could play football – held in May in Cincinnati and Atlanta. Choosing players to profile was the biggest challenge for Benson and director Michael Hamilton. Out of 300 potential candidates, only a handful would be good enough to be invited to Eskimo training camp, so Benson could hardly afford to waste hundreds of hours filming and interviewing no-hope candidates.
This is where Benson's years of football broadcast experience (and even coaching kids) came in handy. After the production brain trust spotted likely candidates in the free agent camp and in the full training camp in Edmonton, Benson then checked with Eskimo scout Paul Jones and GM Eric Tillman to see if they were on the right track.
Still, says Benson, it was like looking for a needle in a haystack.
In some cases, Benson stayed with players who had little chance of making the team, but still had great life stories, or illustrated the fierce determination of a young athlete to turn pro.
"In episodes one and two we have two or three characters who do not make it, and it's a heartbreak," he says.
Telling those stories involved traveling to the hometowns of the players, from major centres like Minneapolis and Charlotte, to the small city of Brilliant, Alabama (the entrance to Brilliant boasts it is the home of Larry Pollard, seven times state checkers champion). And filming their back story was no guarantee of the player's success; Benson says just two of the five players profiled made the team. On one occasion, they were lucky enough to have a camera crew on hand when a player got the call.
Anaïd decided to film "Hail Mary" using a "leading edge" high-definition camera from Canon that gives Hail Mary a "cinematic, very much film feel to it."
It was a big production, Benson says, with three photographers and a host of production people, as opposed to the usual cameraman/soundman/director skeleton crew for other productions.
"We made it feel as passionate and beautiful as the stories we were trying to tell."
And telling that story required a lot of filming; some 200 hours were filmed for the 11 half-hour episodes. Each half-hour show took about six to eight weeks to complete.
Benson promises that viewers will fall in love with some of the characters, and feel invested in their successes and failures.
After the U.S. tryout camps, the series shifts to the full Eskimo camp in Edmonton. The series focuses on six specific players as they try to crack the lineup, and for Americans there is no shortage of culture shock, as they adjust to a strange city in a strange league, playing by even stranger (for Americans, anyway) rules. The Canadian hopefuls have leg up in this regard. One of them, Ryan King, sold 50/50 tickets at Commonwealth.
As the series follows the players through training camp and two pre-season games, Eskimo fans will know who makes the cut and who doesn't, but for non-fans, it's like "Survivor" – you won't know who has to leave the island.