LIT: 'Geek moms' sally forth into fantasy publishing adventure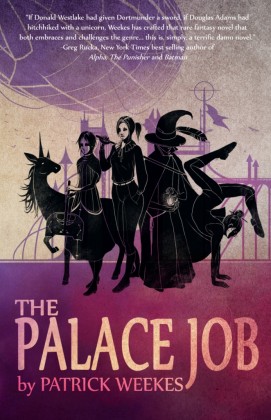 Running a publishing company has always been a crapshoot – and with the advent of e-books, the ease of self-publishing and the closing of major and minor bookstores across the continent, things are even crappier in the book publishing business.
But that didn't stop two Alberta moms from taking a plunge into it.
Tina Moreau, of Edmonton, and Margaret Curelas, of Calgary, founded Tyche Books in November 2011 and have since found their adventures to be quite successful. Already, Tyche (pronounced "tie-key," and from Greek goddess for good fortune and prosperity) has published three books: "Ride the Moon," an anthology of moon inspired short stories that do not include vampires or werewolves, "Blightcross," a fantasy/dieselpunk novel, and "City of Demons," a young adult/fantasy epic.
A fourth book, "The Palace Job," comes out September 26. Written by Patrick Weekes, a writer at Bioware, "The Palace Job" is a fantasy heist novel starring an illusionist, a unicorn, a talking warhammer and a death priestess who all must retrieve a stolen treasure.
Also coming from Tyche in November is an unusual foodie book called "What Kings Ate and Wizards Drank."
Although the publishing company is only a couple of months from its first anniversary, co-founder Moreau is surprised by their little bit of early success.
"It's amazing to see how far we've come so quickly, considering that we only opened our doors on November 1st, 2011," said Moreau, who writes stories under the moniker of Tina Hunter. "And we don't plan on being a small press forever. We truly feel that with the system we have and the books we publish, we can and will grow. Already we are attracting the attention of larger named authors and their agents."
Both Moreau and Curelas had previously worked in the publishing industry, but took time away from their day jobs to raise children. One day, when her son was about three months old, Moreau mused out loud about her desire to start a publishing company once her son was older. They talked about it and realized they shouldn't wait and started the company. Because of the two women self describe themselves as "geek moms," Tyche would publish science fiction, fantasy and related non-fiction.
"We also wanted to be a publisher that valued writers and their work and showed that in the way we conducted business. We take our relationship with authors seriously and vow to be transparent and fair in all of our interactions," says Moreau. "On the logistics side, we use a combination of digital printing and traditional distribution. This system allows us to put out books faster – on average 9-12 months from submission to publication, take chances on great books that may not be something a larger press would pick up, and still get our books out into the hands of as many readers as possible."
The launch for "The Palace Job" will take place Wednesday, September 26th at Happy Harbor Comics. There will be a "secret mission" for prizes at 5 p.m., and the author reads at 6 p.m. Admission is free.