TRUE TALES OF METALLICA: Striker gets a big boost
Posted on September 13, 2012 By Mike Ross Music, The Latest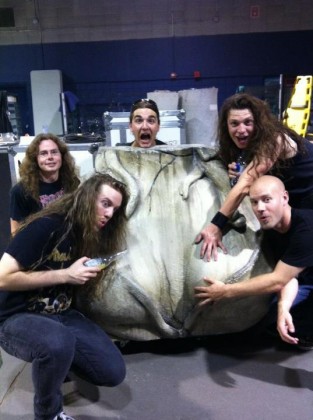 Just a few minutes before Striker went on stage to open for Metallica at Rexall Place last month, a balding, middle-aged man wearing a bathrobe came up to them.
It was Lars Ulrich.
"He just wanted to give us a pep talk," says Striker guitarist Chris Segger. "The gist of it was: 'Go look 'em in the eye and give 'em hell!,' kind of a pump-us-up-Braveheart-style talk."
The Edmonton speed metal band – which had been selected as the Metallica opener Aug. 17-18 in a contest run by the Bear radio station – hardly needed such encouragement, but it was much appreciated all the same. Metallica is one of Striker's big influences. They'd already exchanged a few words with James Hetfield during soundcheck, been officially welcomed to the "biggest rock show on Earth," as if it were Jurassic Park (which it turned out to be, except louder). Meeting Lars made their day. Segger says, "It's not every show that you get to experience something that before you run out on stage. It was pretty special."
The two-night gig went great, by most reports. See below for a video. The band showed "the chops, stage presence and the capability to play on the big stage," wrote GigCity's Wayne Arthurson in his review.
Did they think they'd win the gig? Segger says he had a funny feeling "we were the right fit."
It of course helped that Striker sort of sounds like Metallica did 25 years ago, that the band had been working hard on the road in at least two continents to hone their chops, polish their speedy metal songs and that they'd just released a new album, "Armed to the Teeth," that just happened to have been produced (in Nashville, of all places) by Michael Wagener, the guy who mixed Metallica's 1986 record "Master of Puppets," and who reportedly told Striker in the studio, "If you don't know what to do, just make noise." Good advice.
Wagener, by the way, is from Germany, where Striker enjoys a healthy following. They'll be heading there again shortly after playing Friday night's CD release party at the Pawn Shop. A series of curious coincidences, you say? That's some serious Metallica synchronicity going on here.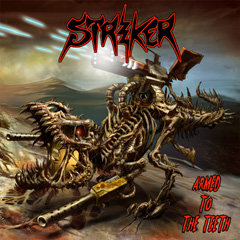 "The first night was the coolest experience," Segger recalls. "You're standing backstage getting ready, they call the blackout, people start cheering like crazy, and you're sprinting out there, you've got a couple of people with flashlights running you out to the stage. From that point it was just plug in and go. I guess we would've been nervous, but it was strangely business as usual when we got on stage. Our half hour set felt like about two minutes. We've played those songs a lot before so the performance side was pretty easy. We probably don't remember much of the show, to be honest."
Admitting hair metal bands of the '80s as a "hidden influence," Segger says he and his bandmates (singer Dan Cleary, guitarist Ian Sandercock, bassist Dave Arnold, drummer Adam Brown) are well aware how many of these bands were successful only because they had big hits with power ballads. Modern speed metal purists cringe at the very idea, and while Segger reassures fans there aren't any slow songs on "Armed to the Teeth," he won't rule out the possibility there may be one lurking on the next album.
"Even a lot of the bands we were huge fans of, I think all the money in the end was made off those ballads," he says. "We still haven't gone there. We mixed it up a bit and we have some elements from that era, but we don't have a full-on ballad yet. Although a lot of reviews we've read seem to be happy about that, it's certainly not something that's out of the question for the future."