Savoy's Health Cafe will make you swear off fast food forever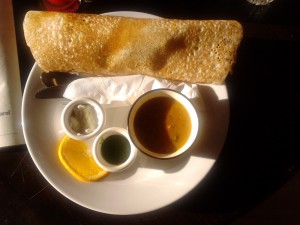 Change, they say, is the only constant thing in life. They have obviously never been to Savoy's Health Café (11010 51 Avenue, 780.437.7718), which has been operating out of the same hole-in-a-strip-mall location across from Southgate for the best part of two decades.
In truth, the Savoy is not exactly the same as it has always been. They may have been a couple of ownership changes – certainly the enthusiastic and genial chaps who greeted me on my most recent visit were fairly new at the task themselves. The floor plan has changed up somewhat, and someone has finally painted what used to be one of the most scuffed looking dining rooms in Edmonton. But the chunky furniture is original vintage, the giant painted wooden sign explaining the health benefits of various fresh juices still takes up most of the north wall, and the same birthday cake-coloured awning presides over it all. Most remarkably of all, it seems like the exact same food has been coming out of the kitchen since I first starting eating there in the early 1990s. And, somehow, it still seems to cost about the same amount it always has.
Savoy's bill of fare is notably grounded in southern Indian cuisine, savoury delights with names like idli and vada – they also have samosas, of course – but I was really there for their masala dossa. Used to be that Savoy's was one of the few places you could find such a thing, but the comically large, gossamer-light crepe filled with spiced potatoes or mixed veggies is more widely available in Edmonton now. That did nothing to dull my nostalgia, and my cheapness was encouraged by its $5.99 price tag, which included a bowl of sambar.
Big wooden signs to the contrary, Savoy only offers two varieties of fresh juice blends, with a couple of overlapping ingredients. I've long been a fan of the Energizer, made with apples, carrots, beets and ginger. Again, it seemed a bargain at four bucks.
Despite the fact that they were about to close, the owners welcomed me and another patron into the dining room and took us each through the menu. What they lacked in fluency they made up for in friendliness, but the conversation was hard to stay with in the din of overloud music and the whirr of a vacuum cleaner in the nearby kitchen, so we eventually settled into nods and smiles.
True to form, the meal was very satisfying. The light, crispy dossa contained a lode of tender Indian-seasoned veggies (potatoes, broccoli, cauliflower, zucchini) and came with just-ample sides of both creamy coconut and zingy cilantro chutneys, plus a cup of hearty sambar (curried lentil soup), also well-supplied with veggies. The tall, refreshing glass of fresh juice, tinted magenta by the beets, sure tasted healthy, and my friendly server emerged from the kitchen to insist on a refills all around on the house – don't expect that to happen at your local chain juice-squeezery. My repast came in at $11.
In case you're not down with vegetarian entrees and/or Indian seasonings, Savoy also offers a slate of western-style sandwiches and a house specialty called the pita pie – ground beef, onions and cheese grilled in a puffy Greek-style pita – served with a salad or soup for $5.99. Try it once and prepare to swear off fast-food valu-meals forever – which is hopefully how long the folks at Savoy Health Café will ply their cheerful trade.