MORE GIGS: The Sheepdogs, Mother Mother hit town in December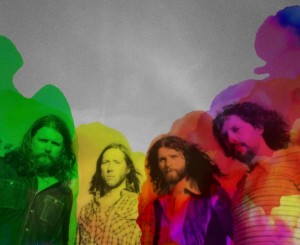 The summers fill with outdoor festivals, the winters with cool indoor gigs. Behold the great cycle of life!
The latest on the sked is the Sheepdogs (right), the fast rising Saskatoon foursome playing Friday, Dec. 14 at the Edmonton Event Centre – almost exactly one year after the band's last appearance in town.
Since then, the Sheepdogs have been working like, well, dogs, and released a self-titled album that debuted at No. 1 in Canada. Many fans came to know the band when it was selected to be on the cover of Rolling Stone magazine, shining a spotlight not only on their catchy bluesy-rock songs, but the lovely Saskatoon that spawned them. "It's not exactly a Tourism Saskatchewan article," singer Ewan Currie admits, but the article certainly didn't hurt a town that had already been earning an international buzz on the order of early '90s Seattle.
With Kelowna's Yukon Blonde opening, tickets to the show go on sale Friday.
While we're here filling up the December schedule, mark Dec. 7 for the return of Mother Mother, the Vancouver band that sounds like a mean fusion of the B-52s and the Talking Heads at a Pink Floyd convention. The band plays Friday, Dec. 7 at the Edmonton Event Centre. With Hannah Georgas in support, tickets go on sale this Friday.
Mother Mother is touring Canada behind the release of its latest album, The Sticks, and the new hit single therein, "Let's Fall In Love."
Finally, we can't seem to get enough of the pretty horsey show – Cavalia has extended its run yet again. Under the big tents at the North end of the City Centre Airport, the Cirque du Cheval-style show now runs through Oct. 21. Tickets on sale here.