A FEW GOOD MEN: The movie?! You can't handle the movie!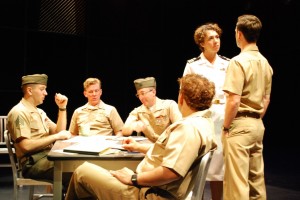 "You want the truth?! You can't handle the truth!"
Imagine having that damned line of dialogue hanging over your head when you're trying to do a serious stage version of "A Few Good Men." Hell of a distraction.
The line – uttered by the crusty Colonel Nathan R. Jessep in the famous courtroom blowout in the 1992 film – wasn't even in Aaron Sorkin's original play, but it worked so well with Jack Nicholson hollering it into Tom Cruise's face that the playwright rewrote the thing. Now, like "I'll be back," there's no getting around it. The play runs through Oct. 7 at the Citadel Theatre.
"It's there, and people are waiting for it, but hopefully we have a good enough production that the audience will forget about the line until it pops up in the end," says actor Kevin Corey. "It does get some oohs and ahs."
This James MacDonald-directed version is more like the movie, says Corey, who plays Lt. Sam Weinberg, perhaps better known as "the Kevin Pollak character," assistant to Lt. Kaffey, the Tom Cruise character (Charlie Gallant). That's how the cast members in the Citadel production describe their roles to their friends. Jack Nicholson will be played by Paul Essiembre.
Characters so closely associated with famous actors and the highly-anticipated tagline are just some of the many challenges in a complicated military courtroom drama that revolves around the trial of a falsely accused murder suspect at the U.S. Marines base in Guantanamo Bay, Cuba. Turns out Jack is the bad guy – too late now for a spoiler alert. Like the Titanic, you know how this is going to turn out.
Brovold has no problem describing her role as "Demi Moore," but tries to see beyond the overwhelming influence of the movie. The tension between Kaffey and her character Lieutenant Commander JoAnne Galloway – who is Kaffey's superior officer – is a classic battle of the sexes set in a man's world. She's the only principal female character in the play, and may be one of the most well-rounded of the lot.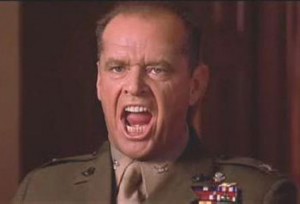 Of the film, Brovold says, "I've always just tried to filter it out a little bit. Of course the movie is on all the time on cable, but I try not to let it direct me too much in my impressions of the character and the journey she's on."
It helps, agree the actors, that Sorkin's dialogue is so realistic, on stage or screen, and that by the time THE LINE comes along, the audience has hopefully been immersed in the story and it all fits together.
"It comes off so easily," says Brovold. "You don't have to labour over the dialogue at all."
And that's the truth. Can you handle it?