THEATRE: Gothic horror comedy laughs in the face of death
Posted on September 19, 2012 By Mike Ross The Latest, Theatre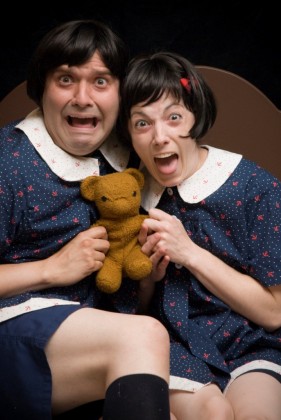 Anything that can be done to hasten the annual Halloween creep would be fine by the folks at Kill Your Television Theatre, whose production of "Victor and Victoria's Terrifying Tale of Terrible Things" opens Friday at the Varscona Theatre.
They originally wanted a late October run, which probably would've sold more tickets, but with schedules being what they are, what can you do?
Small matter. Schoolkids are already talking about what they want to be for Halloween, putting inspirations like Hunger Games, Twilight, Dark Knight and various zombies on top of the list. The nights are already getting cold and spooky. You don't have to look far for glorifications of the macabre in pop culture. So it certainly seems as if we're looking forward to the official autumn permission to laugh in the face of death (or be a transvestite, depending) more and more as time goes by.
It's beginning to look at lot like Christmas: Only six more shopping weeks 'til Halloween!
"Victor and Victoria's Terrifying Tale of Terrible Things" is a comedy that follows the misadventures of a pair of neglected Victorian children, Victor and Victoria – playwrights Nathan Cuckow and Beth Graham, respectively – frequently left by themselves in their spooky old house. Their imaginations run wild.
"Dark and spooky things just continually happen to them," Cuckow says. "For whatever reason, their imaginations just veer toward the grotesque and the dark."
On one particularly dark and stormy night, the twins discover a mysterious book called "The Terrifying Tale of Terrible Things." There's no author, but there is an inscription, says Cuckow, "It says there will be things to horrify and scare them and make them shake and quiver to their core, but they must be brave and face their fears, otherwise they won't be afforded the prospect of changing their future. One of the main themes in the play is the concept of whether or not to confront your fear."
Cuckow and Graham, who play the children as well as every character in the book, came up with the idea when they worked a show at the Roxy Theatre (home of Theatre Network), which, like the Garneau, is a 75-year-old building that holds some very old secrets – including a strange crawlspace that must've been an architect's mistake.
"It's like a dark tunnel, and we were joking about all the potential dark and disturbing secrets that this crawlspace might've held through the years of the Roxy Theatre being there," Cuckow says. "We were pretending to be a young brother and sister who were ghosts and hanging out back there. And while the idea of people who perish before their time is certainly not a laughing matter, there is something about the gothic, macabre world that can be humorous and fun. I guess it's almost a satire of something so horrific."
There's plenty of material to be inspired by: The cartoons of Edward Gorey and Charles Addams, the films of Tim Burton, the Mexican Day of the Dead.
Cuckow says, "People think skeletons and whatnot are disturbing images, but in Mexico, it's a celebration of life, and part of life is death, so they face it head on."
Winner of two Sterling awards for its 2009 Fringe production and since expanded for the main stage premiere, "Victor and Victoria's Terrifying Tale of Terrible Things" plays until Sept. 29 – just in time for an early Halloween.